Seemingly every small town in America has one or more pole barn 'builders'. Many of them are more jack-of-all-trades and masters of none. They frame a few houses, do a deck or two, maybe some interior remodels in winter months and along with this – a handful of pole barns.

Sadly, in my humble opinion, many jurisdictions have minimal (or no) permitting requirements for pole barns. This practice is extended even further when it comes to pole barns deemed to be for agricultural purposes.

Combine lack of structural knowledge (plus pooh pooing any need for an engineer) by 'builders' as mentioned above with not needing a permit and situations arise rife with a potential for possible calamity.

Reader KATHY in KIMBALL writes:

"We have a ranch in western Nebraska. There are two hay barns on the ranch, each is 64'x44′ with 20 foot from ground to bottom of trusses. These are constructed with the trusses on 4 foot centers on double top plate and V bracing. The side walls are fully sheeted and the end walls are open. Both hay barns are level and in good shape. However, we were loading hay out of one of the barns recently, with wind gusts north of 40 MPH and we could see the trusses moving slightly with the wind, the bottom of the columns were stable as they are encased in concrete.
My questions are: Would it add significant support to build an end wall on one end of each of these barns. If so, can Hansen provide the materials and tech support to build these end walls?
Is there anything else we can do to add strength and stability to these hay barns?"
Mike the Pole Barn Guru replies:
Post frame (pole) buildings work much like unibody cars and jet aircraft, it is their skin's strength holding everything together. Here is a home experiment you can do to get a better idea (as well as an extended read): https://www.hansenpolebuildings.com/2011/12/lateral-wind-loads/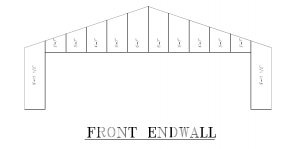 Your hay barns happen to be a worst case scenario when it comes to sound structural design of a post frame building: https://www.hansenpolebuildings.com/2018/03/ends-open-pole-barn-challenge/
What these buildings really need is to have both endwalls at least partially (if not fully) enclosed from eave to ground. If this is something you would entertain, we could connect you directly with one of our third-party independent engineers to determine if there is a practical solution to your situation.

Meanwhile, make sure your buildings have good replacement value insurance coverage and avoid being anywhere near them if wind speeds are at or beyond what you have already mentioned as causing your concerns.