Why in World are you Stuck on Bookshelf Girts?

Reader JAMES writes:

"Why in world are you stuck on bookshelf girts. For instance with 'normal' pole barns one could SPF the walls and roof and have almost no heat loss through the lumber. One could argue your "bookshelf girts" and purlins between trusses makes the building VERY close to a "normal home". Do you offer a traditional style built pole barn as there MUST be savings to be had."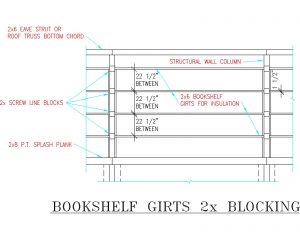 Mike the Pole Barn Guru writes:
There are as many ways to structurally design post-frame buildings as there are providers and builders. Our way of building happens to be very similar to what would be considered as traditional style in Western states such as Washington, Idaho, Oregon, California, etc.

We do happen to offer buildings with columns every eight feet, trusses every four feet – however very few clients ever pick this as an option.

We are always looking at ways to make our post-frame buildings more efficient and DIY friendly, without sacrificing performance.

Worst part of post-frame construction (and least easily to detect challenges in advance) is having to dig holes. By widely spacing columns (usually most cost effective is every 12 feet), number of holes having to be dug is reduced by roughly 1/3rd from eight foot spacings.

Let's examine R-value, calculated using Type 1, conventional method.

For sake of discussion, we will use an 18 eave height (tall enough for two stories in most instances). I've chosen a flash and batt method, for sake of cost effectiveness of insulation.

R-value through cavity

Air film – inside 0.67
½" gypsum wallboard – 0.56
2" closed cell spray foam – 14
5-1/2" Rockwool – 23
Exterior cladding – 0.5

Total R = 38.73

R-value through girts

Air film – inside 0.67
½" gypsum wallboard – 0.56
2×8 girt – 9.06
Exterior cladding – 0.5

Total R = 10.79

On an 18' wall, there will be 8 girts with an area of 1.5" x 12' x 8 = 9.6 sft (Square Feet)

Total area of a bay = 18' x 12' = 216 sft
Hence girts makeup 9.6 / 216 = 0.044 (4.4%) of wall

10.79 x 0.044 + 38.73 x 0.956 = 37.5

37.5 / 38.73 = 0.968 (96.8% of a wall without girts)

How about pieces in say a 60' long wall?

Your "traditional"

Splash planks:  1/12' 3/16'

Girts: Exterior 2×6 8/12' 24/16' Interior 2×4 8/12' 24/16'
NOTE: Exterior girts may fail in deflection, especially at wall corners where forces are greater

Columns (excluding corners): 7/22'

Truss carriers (will vary depending upon roof load): 2×12 2/12' 6/16'

Me:

Splash planks: 5/12'

Bookshelf girts: 2×8 40/12'

Girt blocking: 2×4 10/16'

Columns(excluding corners): 4/22'

Your version has me handling 74 pieces of lumber, with 1582 bd.ft. (board feet) of lumber vs. 59 pieces with 984 bd.ft. of lumber
Your wall sets outside of external wall girts at Building Line and creates an 8-1/2" thick framed wall. On a 40' wide building, net framed interior clear width is 38'7".

My wall has outside of columns at Building Line, so only 5-3/4" is lost on each side. Net framed interior clear width is 39'0-1/2"

In summary, my being stuck on bookshelf wall girts loses only 3.2% to thermal bridging, reduces holes to be dug (per sidewall) by 43%, reduces pieces to be handled 20% and board footage of lumber used by 38%, while delivering a greater net usable interior space.