This Monday the Pole Barn Guru answers reader questions about bigger options for the Charlotte 40×50 on the Home Depot site, Raymundo asks if a building can be made 2 ft. taller, and how to brace a building to stop it from "rocking" in the wind.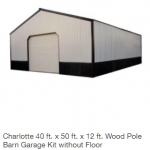 DEAR POLE BARN GURU: Good morning. I saw on The Home Depot® your Charlotte 40x50ft. Do you have bigger options? Could you send me the size of your biggest buildings with prices? ANTONIO in GOLDSBORO
DEAR ANTONIO: Thank you for your interest in a new Hansen Pole Building. We have an ability to provide any fully engineered post frame building with a clearspan width of 80 feet or less (100 feet in some markets – due to fabrication and shipping limitations) and up to 40 foot high walls with three stories (with sprinklers for fire suppression 50 foot and four stories). One of our Building Designers will be reaching out to you Monday for more information.
DEAR POLE BARN GURU: Hi, still really early in the planning phrase. What's included in your kits? And can I make the barn 2ft taller? RAYMUNDO in HARTFORD
DEAR RAYMUNDO: Hansen Pole Buildings provides fully engineered, custom designed post frame buildings, with multiple buildings in all 50 states. Our buildings are designed for average physically capable person(s) who can and will read instructions to successfully construct their own beautiful buildings (and many of our clients do DIY). Our buildings come with full 24" x 36" blueprints detailing location and attachment of every piece, a 500 page fully illustrated step-by-step installation manual, as well as unlimited technical support from people who have actually built buildings. We furnish all components to seal in your building, with exceptions of concrete, rebar and nails normally driven by a nail gun.
We can provide any building up to 40 foot tall walls and three stories (or, if you add fire suppression sprinklers – 50 foot tall and four stories).


DEAR POLE BARN GURU: What bracing is used to keep the pole barn from rocking against the wind? The base is ok but the top rocks back and forth and creeks a lot. RAY in SAPULPA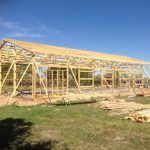 DEAR RAY: If your building is still under construction (in framed up stage) you should be able to stand in middle of roof and rock building back and forth by several inches, just by shifting your weight. Here is where temporary diagonal bracing of wall columns comes into play (especially if some or all of your building columns are not backfilled with pre-mix concrete.
If your building is completed, you should be reaching out to whomever provided your building's fully engineered plans, as it sounds like there is a serious design flaw or flaws. Provided your building does not have an excess number of endwall openings (doors, windows, etc.) you can stiffen it up by replacing all of your siding and roofing screws with 1-1/2" long diaphragm screws next to each high rib, into every underlying framing member. At top and bottom of each steel panel, place screws on both sides of high ribs.
To further stiffen it, use #12 x 1-1/4" stitch screws at roughly nine inches (or less) on center through overlapping ribs of steel panels.