This Wednesday the Pole Barn Guru tackles reader questions about drawing up engineered plans to match some non-engineered plans reader currently has, if it is possible to run p-bex through columns, and whether of not a person can set a building on an existing slab with use of drill set brackets.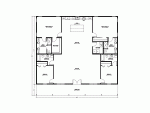 DEAR POLE BARN GURU: I am currently in the process of getting my plans drawn up for a hybrid metal frame home. The plans are drawn up but are not engineered plans. Can I get a cost to have engineered plans drawn up by you if I send you the plans that I currently have. Also, I am located in California, Riverside County to be exact.
Thank You.
Forgot to mention. I am leaning towards post frame construction versus the metal frame. CODY in RIVERSIDE
DEAR CODY: Thank you for reaching out to us. We provide engineer sealed structural plans and verifying calculations with every custom post frame building package. Due to proprietary nature of some materials, our engineers are unable to draw and stamp plans when we do not provide materials.
A member of our Building Design team will be reaching out to you shortly to discuss your building needs.
DEAR POLE BARN GURU: Good morning sir, I am building a shop/house and have a question about running wire and PEX water lines through the posts. I have read your threads about this yet still not 100%. I do not have the gap between the metal and the posts like you spoke of so drilling the posts seems like the easiest way for me to accomplish the routing of the wire. So what is the right answer, can I drill the posts or not per code? Who do I have to convince of this, the county inspector or the engineer? I am getting so many answers it's frustrating. The ability to drill through the posts of my pole building would be the easiest and economical way to run all wiring and PEX.  Thanks SAM in KENNEWICK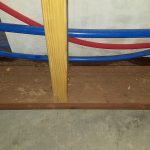 DEAR SAM: Think of a hole being drilled through as being an "open knot". Lumber grading rules refer to these as being "Unsound or Loose Knots and Holes" due to any cause. Most structural framing – like wall girts and roof purlins or posts and timbers are graded as Number 2.
For practical purposes, a hole up to just less than ¼ of board face being drilled through will be within grade in #2 lumber. Example: 5-1/2" face of a 6×6 a hole up to 1-1/4" may be drilled through, as often as every two feet. Allowable hole sizes are reduced and spacing increased for higher grades of lumber.
You should engineer who sealed your plans approval. His or her seal will quash any concerns your inspector may have.
DEAR POLE BARN GURU: I have already had a monolithic slab poured on my site. 40×60. rebar top and bottom of thickened area 12×12 with 6″ slab. Also rebar both sides of the cut lines at 10′ intervals. The concrete is 6 sack with fiber. Can I put a pole building on top of this slab and secure it with a bracket that is anchored by drilling holes and using a fastener. Building will be 40x60x16. Thank you for your consideration. DAVID in HELMVILLE
DEAR DAVID: Can and should are not often a same answer (or result).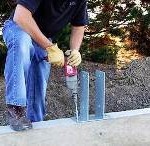 Dry (drill) set column brackets (from any manufacturer) are not designed to resist moment (bending) loads. While they may work just fine, it only takes one good wind event to turn your beautiful new building upside down. Even worse – a smart insurance company will hire someone like me to testify what you used was not a structurally adequate design solution and deny your claim!
There are some options:
You could use a concrete saw to cut out column locations from your existing slab, or (and probably more practical) increase dimensions of your proposed building to 42′ by 62′ and place embedded (structurally best) or wet-set bracket mounted columns on concrete piers outside of your current slab.