Today Mike answers questions about eave lights, drawing building plans, and foundation plans.
DEAR POLE BARN GURU: How to I attach the poly eave lights to the building frame? RUSSELL in BOISE
DEAR RUSSELL: Polycarbonate panels are best predrilled for screw fasteners using a 3/8" bit. Screw pattern for eave lights is same as for sidewall steel.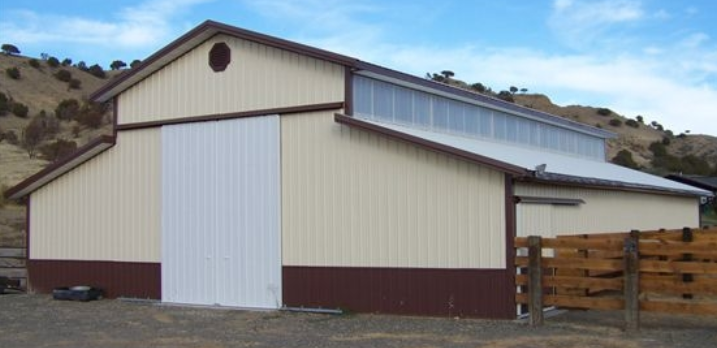 Drive #10 x 1" white screw fasteners perpendicular to light panel's surface and tighten moderately. Fastener head and washer/gasket is to sit snugly and fully on panel's face, without squeezing gasket and distorting washer. Over tightening will distort washer, panel and ruin gasket, causing leaking and panel damage, resulting from undue internal stresses. Tilted fastener insertion will deform washer, damage gasket, cause leakage and originate undue stresses on panel eventually leading to failure. Tighten fasteners by hand or by an adjustable torque power-screwdriver.
DEAR POLE BARN GURU: I'm have a question related to the construction of a custom building. I see that you have some sample building plans on your web site. Do you typically produce the plans for the buildings that you construct or do you recommend that a client work with an architect to have plans drawn up before accepting a construction project? If you do recommend that clients provide plans, do you have a list of architects that you prefer to work with?
Thanks in advance, MATTHEW
DEAR MATTHEW: We (Hansen Pole Buildings and our contracted third-party engineers) produce plans for post frame building kit packages we provide. For clients who feel more comfortable working with an architect, we would recommend contracting their services for conceptual work (aesthetics, room layouts and sizes, etc.) and leave structural aspects (permit/construction plans) to our team.
DEAR POLE BARN GURU: Do you have any experience with anchoring a building to an existing slab?
I talked with you before about door options, but now have ran into the problem that the building I am going with will now sit on the anchor plates that I had installed in the slab. Just curios if you know what my best options could be for anchor bolts. Thanks. MICHAEL
DEAR MICHAEL: All steel buildings usually do not come with engineering for a foundation. You are going to have to consult with your foundation engineer and get a fix from them, as no one else can legally make this change.