Polycarbonate panels to be used for eave and/or gable end triangle "lighting" or ridge caps should not be used within living areas of post frame homes and barndominiums. They do often afford a cost effective method of getting natural lighting into accessory areas such as unheated shops and garages, barns and equipment storage buildings.
Recommended storage procedure for Polycarbonate panels (eave or ridge lights):
Store panels horizontally, on flat sturdy pallets, equal or longer than longest panels. Stack short panels on top.
Store polycarbonate panels in a cool and shaded place, avoiding direct sunlight, ideally indoors in a cool, dry, well-ventilated area. Avoid covering panel stack with dark or heat-absorbing materials or objects, to prevent solar heat buildup. When stored on skids, stack panels no more than 250 pieces on a skid. Avoid double stacked skids, or stacking anything atop panels. Prevent moisture from collecting on or between panels.
When necessary to store panels outdoors, cover stack with a white opaque polyethylene sheet, corrugated cardboard or other materials not absorbing or conducting heat. Verify entire stack is covered.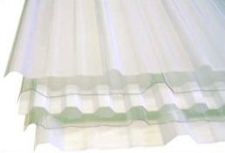 Polycarbonate panels are tough, requiring no special care. We recommend some cautionary steps: avoid stepping on or driving over the panels while on the ground, or folding during handling and installation. Avoid dragging panels on the ground, scraping against structural elements or any other sharp or rough objects, to keep from getting scratched.
Polycarbonate panels are resistant to a variety of chemicals and exhibit limited resistance to a second chemical group. A third chemical group may attack and damage panels. Damage degree and severity depend upon chemical type and exposure duration. Polycarbonate panels will melt down at approximately 400 degrees F.
In today's as well as most recent four previous articles I have covered how to protect your valuable investment's materials prior to assembly. All of this information and more is a portion of Hansen Pole Buildings' Construction Manual – nearly 500 step-by-step pages to guide do-it-yourselfers and construction professionals to successfully completion of every post frame project.
Ready to stop pondering and start your journey to a happy new post frame building? Call Hansen Pole Buildings today 1(866)200-9657 to speak to a Building Designer.