DEAR POLE BARN GURU: I have four skylights with old fiberglass panels that are in need of being replaced. I doubt the design of the panel can be matched easily but am wondering if I send you a piece of it if it can be. I understand the way to go is with a polycarbonate, not fiberglass, panel. Thanks DAVE in BAY
DEAR DAVE: As you are finding out, skylights are problematic. Here is some extended reading on why: https://www.hansenpolebuildings.com/2012/01/skylights/.
If indeed you determine the only solution is to replace fiberglass panels with polycarbonate (me, I would replace them with steel panels and be done with the future headache) I would recommend a visit to the ProDesk at your local The Home Depot® as they can order in most anything and it usually comes in freight free, which can prove to be a significant savings.
DEAR POLE BARN GURU: I am buying a building immediately but your website is too intrusive to shop, so I will not be using you. I, like many others, do not like the setup for quotes because in most cases you turn into used car salesmen. BRAD in KNOXVILLE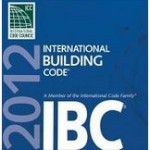 DEAR BRAD: Thank you very much for your input. In order to be able to provide accurate pricing and design advice to our clients, we do need to gather some basic information. Things like where is your new post frame building to be constructed (so we get the correct climactic loading conditions), as well as how do we best reach you to discuss your proposed project. We get several hundred new inquiries each day, seven days a week, and frankly you are the first to voice an opinion as to our website being intrusive. If you have constructive solutions as to how we can best glean the information needed to be able to best provide our services, without coming across as being 'intrusive' we would welcome your input, as we always strive to improve.
Our Building Designers are highly trained professionals whose mission is to assist our clients in the quest for the ideal dream building which melds imagination, budget and available space. Post frame buildings are highly involved, engineered structures, which ideally require a fair amount of interaction between us and the client to arrive at the best design solution. We do not "sell" anything to anyone – we provide the assistance to our clients, as well as the education which enables our clients to invest in The Ultimate Post Frame Building Experience™, should they decide we are the best fit. Most of our clients have spent hours perusing the thousand plus pages of free information on our website and have decided they are going to own a new Hansen Pole Building long before they ever request a quote.
DEAR POLE BARN GURU: Question about my plans. On the drawings, my purlin spacing is noted as 31" OC. On the truss drawing, I see that it says the bracing for the top chord is 24" OC. Am I reading this correctly? 
It states: 
(Switched from sheeted: Spacing > 2-0-0).
and then below it talks about the Bottom Chord: Rigid ceiling directly applied or 6-9-13 oc bracing. What does that mean?
Thanks! DAN in QUAKERTOWN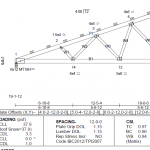 DEAR DAN: Truss drawings are designed without any knowledge of how a particular building is constructed, or what the final bracing system for the entire structure is – the permanent bracing design is left to the engineer of record (see General Safety Notes #2).
You will note the top chord bracing says 2-0-0 purlins then says the maximum spacing is 4-7-0 (least of the three drawings). The 31″ spacing on the plans is far less than the 55″ maximum.
Bottom chord bracing is a function of a maximum L/d (length divided by depth) ratio of L/80 for members in tension (truss bottom chords are in tension as they are preventing the walls of the building from going out). The width of a single 2x member is 1.5″ X 80 = 120″ maximum for a single width 2x member. You will note on the endwalls of the building there is a 2×4 nailed to the face of the bottom chord of the truss. This now makes the member three inches in width so technically it could be braced once every 240″ (or 20 feet). The same goes for the interior double trusses, the three inch width member is good up to 20 feet without being braced laterally.