DEAR POLE BARN GURU: Your from Spokane area? Can one construct a custom pole building as home Spokane county? Would you have any references of builders in my area to consider? TERRY in MEAD
DEAR TERRY: Yes, I was born and raised in Spokane – still have a plethora of family members there (as well as a home).
You (as well as anyone else) can construct a post frame (pole building) home anywhere in the United States. Post frame buildings are totally Code conforming structures. Keep in mind you WILL have to have engineering for your building, which is why it is most beneficial to deal with a building provider who can get engineer sealed plans for you to obtain your Building permit.
The builders we refer are what is known as "technicians" – they are the people who swing hammers and drive nails and screws. They are generally unqualified to assist you through the design phase of your proposed project. Once you have determined the features which best meet your needs for space and your budget, we can provide names of several who you can then vet to determine which will be the fit for you.
DEAR POLE BARN GURU: I have a question on first roof metal sheet. How far do I overlap the end soffit fascia board? BILLY in VENICE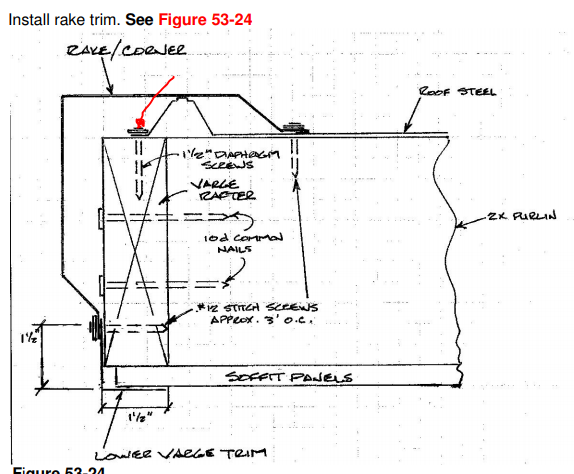 DEAR BILLY: The leading edge of the first panel of roof steel should fall directly dead center of the varge rafter. It should not, in any case, extend beyond the rafter.
DEAR POLE BARN GURU: I am looking to build a 20'x12′ pole barn style roof/structure overtop a deck adjoining to 12'x12′ shed all next to a concrete deck/pool. The deck will be connected to the 12'x12′ shed, sharing same roof with having a 4:12 pitch metal roofing on 2×4 perlins. Shed will be 2×4 framed, 2×6 floor joists/frame, 2×6 rafters, 12″ o.c. My deck plan is 2×6 PT framed wrapping around 6×6 posts and using 10 post support pier blocks (6 in middle spaced every 3rd joist and 1 each between 6×6 post to support 2×6 frame). Will that suffice?
– can I use 6×6 PT posts 10′ o.c. with a single 2×12 notched into 6×6 for top header? Or would doubled 2x12s be needed (notched)
– 10 engineered trusses 24″ o.c. on 2×12 header? Or doubled trusses at posts—giving 6 total trusses
Thank you. Your site is very informative. RYAN in MOUNT HOLLY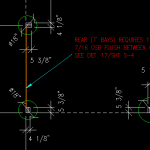 RYAN: In a nutshell – no, your ideas will not be structurally sufficient. This is one of the reasons the State of New Jersey requires engineer sealed plans for all structures – it is the insurance every building is designed to meet with the requirements of the Building Codes and to protect you and your loved ones from the consequences of the unexpected collapse of some or all of your building.