DEAR POLE BARN GURU: I would like to get a quote for sliding garage door for commercial building.
The size that I would like to have is 8′ wide 12′ tall. If I can get two slide garage door it would be perfect (two 4'x12′ garage door) if not One door is fine.
White garage door with no window would be nice.
Can it be automatic door or does it come with manual only?
Can you do installation? or do you guys only provide materials?
Thank you. HANG in ROCKY MOUNT
DEAR HANG: Thank you very much for your interest.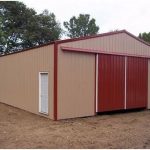 Not sure a sliding door is the best option for a commercial building, due to security issues. Sliding doors typically seal tight enough to allow the neighbor's cat into your building. You may find a sectional steel overhead door to be a better option, as well as being less expensive.
The sliding door(s) could be either one piece or split (bi-parting), are available in your choice of any of the popular roll formed steel siding colors and can be fitted with automatic electric openers (read more about openers for sliding doors here: https://www.hansenpolebuildings.com/2017/04/propel-electric-door-openers/).
As we are not contractors, we do not provide installation of anything, anywhere.
Hansen Pole Buildings provides sliding doors only with the investment into a complete post frame building kit package, due to the amount of damage when shipped by themselves. We would recommend you contact the ProDesk at your local The Home Depot®.

DEAR POLE BARN GURU: You're getting a lot of foot traffic coming through your front door and you do not know how to answer the questions direct them my way I'll take your builds it's a damn shame that you don't know how to build a pole barn house to code
Please get out of the way a residential construction guys really staying to the pole barn homes   and I'll keep out of your way as well on just straight back yard pole barns
KURT in WESTERVILLE
DEAR KURT: What appears to be a shame is you know so little about our business you have chosen to just wing out your suppositions without having educated yourself. My life experience has taught me you will catch more flies with honey than vinegar – this adage holds true with business relationships as well, just a suggestion you might want to give a try to.
Actually we do not build anything, we supply complete ENGINEERED building packages for post frame buildings of all sorts – including houses. All of our buildings are structurally Code conforming and we have the ability to answer all of our client's questions, although we do appreciate your offer to do so for us.
Next time you decide you want to sell or construct a post frame building which actually meets Code – drop us a note as we can provide it for you and/or your client.

DEAR POLE BARN GURU: Good day, I would like to replace the shingles on my Quonset shop with tin and was wonder if 29 gauge would form to the shape of the roof and what kind of spacing you would recommend for strapping under the tin? MATT in ALBERTA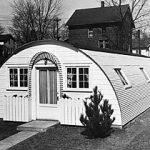 DEAR MATT: Roll formed 29 gauge steel is not going to bend to fit the curve of a Quonset. I have seen people apply it going horizontally (lengthwise) on Quonsets, although have not done it personally. Under most snow and/or wind load conditions, supports every two feet beneath the steel should be adequate.