This week the Pole Barn Guru answers questions from a Project Architect about the structural framing of a Hansen building, the cost of building plans with engineering, and if the Pole Barn Guru has advice for "base supports" for a wood floor in a Tube Canopy.
DEAR POLE BARN GURU: I am a Project Architect with some questions. Do you provide some type of laminated header around the top for truss bearing as well? Are there purlins (wall girts) on both the inside (for the sheetrock) and outside (for metal siding)? I'm trying to make sure our footings, slab and inside clearances are accurate. JIM in ALBANY
DEAR JIM: Hansen Pole Buildings are engineered with double trusses bearing directly upon notches cut into wall columns. This eliminates need for a header (aka truss carrier) around top of building for trusses to bear upon. https://www.hansenpolebuildings.com/double-truss-2/
Externally mounted wall girts typically fail in deflection https://www.hansenpolebuildings.com/2012/03/girts/
For structural strength against wind loads and being able to be insulation and interior finish ready, Mason has included what is known as "commercial bookshelf wall girts" https://www.hansenpolebuildings.com/2011/09/commercial-girts-what-are-they/.This method also leads to a superior interior finish when gypsum wallboard is applied. https://www.hansenpolebuildings.com/2019/09/11-reasons-post-frame-commercial-girted-walls-are-best-for-drywall/.
DEAR POLE BARN GURU: What would a complete set of plans with engineering cost for a 40′ x 120′ pole barn structure cost with a 14 ceiling height. Posts would be 12′ o.c. with girder trusses and purlin rafter roof framing. DENNIS in LAS VEGAS
DEAR DENNIS: Our engineers will only seal structural plans when we provide material package. Some materials they specify are proprietary to Hansen Pole Buildings and this is only way they can guarantee materials as specified reach jobsites. A Hansen Pole Buildings' Designer will be reaching out to you to further discuss your building needs, or call 1.866.200.9657 for immediate service.
DEAR POLE BARN GURU: I am building a wood floor 17′ x 12′ to support a 3500 pound car under a portable tube aluminum and canvas car canopy (that will be mounted through holes in the floor directly to the ground underneath). The recommendation is base supports every 12 feet under floor joists every 2 feet, but they don't specify the width of these two boards. One manufacturer's picture appears to use 2 x 8 supports for 2x 4 joists. Can you suggest widths for these two items? ROBERT in WOODSTOCK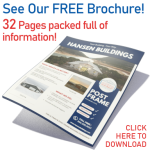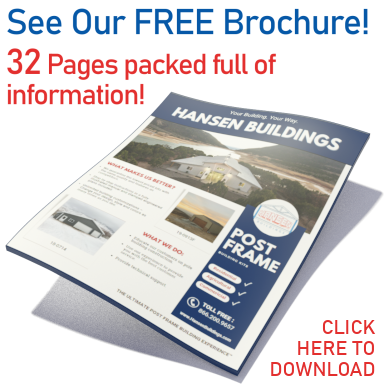 DEAR ROBERT: I have never been a fan of these canvas covered tube canopies – they do not have a track record of durability, if snow doesn't collapse them, winds blow them away. Provided your site is level, it would seemingly be economically prudent to just place some gravel and call it a day. If floor framing members will be entirely supported by ground below, they could be any dimension, provided they are pressure preservative treated to at least a UC-4A (Ground Contact) level. Otherwise, you should reach out directly to your canopy's manufacturer for their best recommendations.