Will I Need to Use Double Trusses?

Reader DALE in TOMPKINSVILLE writes:

"On an open front 5 bay tool shed, roof length 60 feet, width 40 foot, height of 10 foot, 12foot, trusses on 6×6 columns, 12/4 pitch located in southern Kentucky zone 6 will I need to double the trusses?"
Need and want are two different things. In all likelihood, single trusses will support your climactic loads. Double trusses do have some distinct advantages however.

ASABE (American Society of Agricultural and Biological Engineers) published ANSI/ASABE S618 "Post Frame Building System Nomenclature" in December 2010. For those who are unfamiliar ANSI stands for American National Standards Institute (www.ansi.org). ANSI is a private non-profit organization overseeing development of voluntary consensus standards for United States products, services, systems and personnel.
In ANSI/ASABE S618, a Metal plated connected wood truss would be described as, "A truss composed of wood members joined with metal connector plates (also known as truss plates). Metal connector plates (MCP) are light-gauge, toothed steel plates. The most common type of light wood truss." Ganged wood trusses are defined as, "A truss designed to be installed as an assembly of two or more individual light wood trusses fastened together to act as one."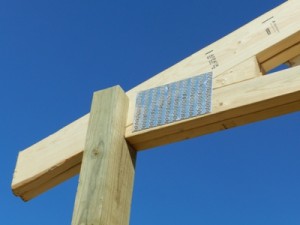 For Hansen Pole Buildings, any time we are using a "real" double (more specifically ganged) truss system, we specify top chords to be a minimum of 2×6, regardless of loads. I say "real" because placing a single truss along each side of a column is not a double truss. They are two single trusses, acting independently from each other. A true double truss system, such as used by Hansen Pole Buildings, features trusses physically attached face-to-face by means of mechanical connectors (e.g. nails, bolts, etc.). This allows for two members to actually load share, reducing probabilities of one weak single truss failing and pulling a roof system down with it.

True ganged trusses, due to their load sharing capabilities, often are able to utilize smaller steel connector plate, smaller or lesser dimension lumber for chords and/or webs, and require far less lateral bracing. Often utilization of two-ply ganged trusses results in a less expensive overall structural design solution, when all factors are taken into consideration.

Three sided buildings also pose their own unique set of structurally challenges, please read more here: https://www.hansenpolebuildings.com/2014/03/three-sided-building/