Solving Yet Another Post Frame Condensation and Insulation Challenge
Long time loyal readers will sigh as yet another post frame building has been erected without thoughts to how to properly insulate and control condensation. Had our new friend invested in a Hansen Pole Building, chances are good we would not be having this question and I would have had to write about something else today! Our Building Designers follow with these recommendations: https://www.hansenpolebuildings.com/2019/11/post-frame-building-insulation/.
Our new friend COREY in POST FALLS writes: 
"I have a 36×48 pole building with trusses on 12' with BCDL 5psf, the roof is plywood sheeted with composition roofing with ridge vent and gable vents. The wall Purlins are on the exterior of the poles and there is no vapor barrier. I would like to install a ceiling with insulation and insulate the walls. I am looking for vapor barrier and insulation recommendations. Was thinking of installing 2×4 on 24 centers to bottom of trusses and installing OSB and blown in insulation, and then framing in between poles adding batt insulation and sheeting with OSB, but am unsure of controlling vapor. Thank you."
Mike the Pole Barn Guru responds:
Small world, many years ago I graduated from Post Falls High School!
A vented ridge relying upon gable vents as an air intake is usually very inefficient. You should make sure your vents in each end are located in the top half of your attic and have at least 415 square inches of net free ventilating area on each end. This means you are probably going to have to add more vents. Effective ventilation of this area is essential to preventing mold and mildew in your attic.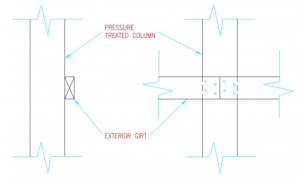 Wall girts flat on column exteriors are inadequate to carry imposed loads and will not meet deflection limitations. I would suggest you reinforce each of them to create either an "L" or a "T". Assuming you have 6×6 wall columns, you could place a 2×8 bookshelf style girt on top or bottom of each girt, nailing through 2×8 into existing girts with a 10d common nail at say 12 inches on center. This will create an insulation cavity and allow for easy interior finish.
For ceiling joists between your trusses, 2×4 will not be adequate you should use 2×6 #2 with joist hangers on each end.
Unless you have a Weather Resistant Barrier (https://www.hansenpolebuildings.com/2016/01/determining-the-most-effective-building-weather-resistant-barrier-part-1/) between framing and wall steel, my recommendation would be to have two inches of closed cell insulation spray foam to the inside of wall steel. Then fill balance of wall cavity with BIBs insulation: https://www.hansenpolebuildings.com/2011/11/bibs/ with a well sealed vapor barrier towards the inside space.