I've personally used and experienced wonderful results with a product referred to by the trade name BIBS®.  You can read more about it on the internet:  www.bibs.com
I know I'm going to sound like a commercial talking about how great this stuff is, but I honestly have no affiliation with the company producing it. I just happen to have used BIBS® insulation in my most recently constructed building, and I love it.
What is it?  Simply, a shredded fiberglass material mixed with a light adhesive.  A fine netting is placed over the inside of the framing and insulation is blown into place.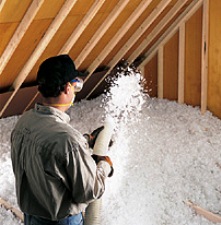 Besides offering an "R" value of over 4 per inch, I was impressed when standing inside my building with the wind blowing 60 miles an hour outside.  Inside…it was completely quiet.  If I hadn't been fighting the raging wind outside earlier in the day, I'd have never known the wind was blowing so hard.
And because BIBS® is blown in, there are no gaps. It eliminates voids, thus reducing heat loss.  Due to its density and the way it's blown in under pressure to fill every space, there is no settling.  I can attest to this as I have some yet unfinished areas in the 3rd story area of my building, and over seven years later, there are still no gaps or evidence of settling!
When my wife and I considered insulation for our big storage building (60×84), with a loft for our new "living space" we checked out all types of insulation.  BIBS® insulation was less expensive than foam, and had some advantages due to the design of our new building.  Five years later, we'd do it all over again. We are often surprised to wake up mornings finding it has rained and realize we didn't even hear it, even with a steel roof.
BIBS® was blown into some very irregular spaces in our pole building. It has a gambrel roof style and custom designed windows, which have odd angles and spaces around them.  I know we'd never have filled those voids with any other type of insulation and had such a complete and tight "fit" with any other insulation.  Having the insulation tight around plumbing reduces the possibility of freezing pipes in the wintertime.  We have no drafty outlets…no drafty anything, due to BIBS®.
Probably the only "down" side to this product for you do-it-yourselfers is it is only installed by certified BIBS® installers.  However, to their credit they come in knowing exactly what they are doing, so having experienced installers cuts down on labor costs overall.  I know this is one "do-it-yourself" project I am happy to pass along (this and concrete!) to those "in the know".  There are just some things you want and need to have done "right" and this is one of them.  After seven years, I am a happy camper with the results of choosing BIBS® for part of our insulation needs.  We have a phenomenally low heating and A/C bill, amazing sound control (quiet!), and maybe just the feeling of being "snug as a bug in a rug" …which is pretty nice considering winter is…coming!