If you didn't read my yesterday's blog – you may want to prior to reading today's, which is the "rest of the story" on metal building insulation, commonly known as "MBI".
My first experience installing MBI was not a fun one, in any sense of the word "fun".
What no one warned us about were safety issues during installation. We should have been advised to wear protective gloves, a dust mask and goggles when working with insulation. Insulation is made of tiny fiberglass shards, which can cause serious irritation of the skin, eyes, nose and throat if you don't take proper precautions. Instead, we spent several days with red eyes, itching skin and hacking up our lungs!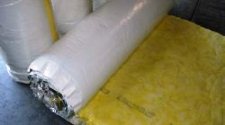 Now fiberglass itself is not some "magic" insulator, it is the dead air trapped in the uncompressed fiberglass which is doing the work. Smash the air out, and you lose R value. As far as an insulator, every time metal building insulation crosses a framing member, it is compressed to nearly nothing and loses its insulation value. People have this mistaken illusion "thicker must be better".  Not true. Going to thicker products generally does not really add to the overall heat transfer resistance.
In years since, I've had clients tell me how a competitor proposed to insulate their new pole building with R-11 (3-1/2" thick) or even R-19 (6" thick) metal building insulation! First, I would hate to even imagine what the steel would look like, after trying to mash insulation this thick down and screw the metal through the insulation to the roof purlins. It would NOT be pretty. (read yesterday's blog to see why).  Secondly, there is no way the fiberglass is going to come anywhere close to being able to fully expand between the roof purlins. Keep in mind the "product" does indeed have an R-11 capability (in the case of 3-1/2" thickness), when it is laid out in your driveway. As soon as it gets compressed, R values start to shrink. My educated opinion is a 3-1/2" thick product, in service in a pole building, is probably offering a true R value of between 2 and 4 – just slightly above nothing.
We (Hansen Pole Buildings) now partner with several lumber yard chains, providing pole building kit packages to their clients. Two summers ago I was visiting one of the lumber yard locations in Pennsylvania, in order to provide training to their staff. I went out into their warehouse to greet the store manager. Looking up at the roof of this pole building, I saw tattered MBI hanging down from between the roof purlins and hundreds of birds pecking at the fiberglass, to carry it away for nesting! Any hole in the vinyl at all, and a bird in the building, will result in exactly the same scenario being replayed – much to the chagrin of the poor pole building owner who now has no roof insulation, no condensation control vapor barrier under the roof steel of his building, and nothing but a mess.
In my over 30 years of experience, I can truthfully say I've never seen Metal Building insulation look to be a perfect "clean and neat" install product under roof steel.  Moreover, far too often I've visited older buildings where the inside view of this product "over time was enough to convince me it was not the optimal choice for pole buildings underneath steel.  Back up a few days to read other blogs where I discuss vapor barrier and reflective radiant barriers.  And stay tuned – for more on other insulation products!