DEAR POLE BARN GURU: I have an upstairs (loft) exterior opening that is 50″ wide by 68″ tall. I want to build a door with the National Hardware tab-loc frame and cover it with r-panel siding. How much overhang on each side, and top and bottom do I need to make the door? What should the door's dimensions be to keep the weather out? PHILLIP in SAND SPRINGS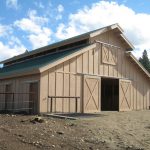 DEAR PHILLIP: It will depend upon what you are using for door jambs as well as if you are using a track cover (steel trim). Having a track cover above the sliding door track board is the only way to keep massive amounts of weather from entering your building above the door, so probably a good investment. If your jambs stick out from the framing an inch or so outside of the siding, then you should be able to use a 54-56 inch width. Height should be equal to a minimum of the height of the hole (assuming again the use of a track cover) and can be greater.
DEAR POLE BARN GURU: How much would it cost to build a pole barn with antique wood exterior that is finished on the inside for wedding receptions. TERRANCE in ANDERSON
DEAR TERRANCE: How much would it cost to buy a new car?
It depends upon if the car is an economy subcompact or a limo. Features, degree of quality and dimensions are all going to factor highly into the budget.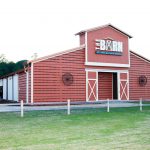 The antique wood barn boards can run anywhere from seven to 20 or more dollars per square foot of wall area – just for the siding! A 2400 square foot building with a 14 foot eave height could easily have $50 to 60 thousand dollars in barn board siding, many times more than the investment into the building shell itself.
Most of our clients opt to go with the look of barn boards using 1×4 cedar battons every 16 inches over rough sawn T1-11. This route saves tens of thousands in materials alone.
DEAR POLE BARN GURU: 28 x 32 pole building with ATTIC trusses 10 ft side wall, what size should footing/hole be?? CHRIS in INDIANA RIVER
DEAR CHRIS: The thickness of the concrete footings as well as diameter of the concrete collar (and hole) is calculated by the engineer who sealed your building plans and will be specified on those plans.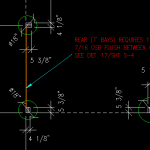 Your engineer takes into account the soil bearing capacity of the ground at your site, the spacing of the wall columns, design wind speed and exposure, frost depth, roof snow load, roof slope and roofing material, width of the usable attic space and what the space will be used for, as well as use of any uninhabitable spaces outside of the width of the attic bonus room. Ceiling materials as well as any concentrated loads from HVAC, plumbing, etc., also are factored into the equation.
If you are not finding this information on your plans, contact the engineer who designed your building and ask him or her. In the event you do not have engineered plans (or no plans at all), you need to hire a Registered Design Professional (RDP – engineer or architect) to correctly calculate this for you.
Do not attempt to guess, or do this on your own. Inadequate footing result in buildings which settle and shift – neither of which is a good design solution.