Lots of Bad Advice for Retrofitting Roof Insulation

Reader DAVE in GALES CREEK writes:

"I'm desperate, or I wouldn't be bugging you with this. We have a 38×48 pole barn / shop with concrete pad that was on our property when we bought it. There are 4 sections between trusses, and one of those has been walled off as a work area. I really need to insulate the ceiling / roof of this area. For heating purposes and some extra sound absorption. The roof has 2×6 rafters running parallel to the length of the building – no soffits or vents. The existing insulation is vinyl backed fiberglass between the rafters and metal roofing. It does very well for what it is, no problems. I've had so many people tell me EVERYTHING I learn is wrong – it's cost us dearly over the last few years being paralyzed with fear that we might do it wrong and regret it. How would you do this? Most say to tear out the vinyl back fiberglass, fill the rafter cavities with Rock Wool (or fiberglass), an interior vapor barrier and then cover the ceiling with PVC roofing or tin. Others say to leave the fiberglass vinyl backing in place,( Which I prefer) use Rock Wool, but leave an air gap so there will be air flow into the rest of the shop to avoid condensation on the vinyl backing. Like a mini attic space to avoid creating a double vapor barrier? I would use spray foam, but without getting into it, it's not an option. I'd have to use foam board, rock wool or FB insulation. Could you please help us? Any advice would be so greatly appreciated. We're losing our shirts on this project taking so long. Anything would be helpful at this point. I'd be glad to send diagrams and photos if need be? Thank you very much for your time either way."
Mike the Pole Barn Guru answers: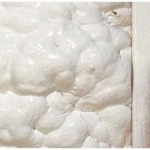 While I am not a fan of vinyl backed fiberglass (aka metal building insulation), provided seams are sealed and facing is not punctured, it does provide a condensation control.

If you were to tear out what you have (would be a painfully tedious project), your only option would be closed cell spray foam directly to roof steel. Why? Because, Building Codes require an inch of clear space between insulation and roof deck from eave-to-ridge. As your building's roof purlins prevent this from happening, any sort of batt insulation in plane of roof would not be an option.

Provided your trusses are capable of carrying added weight of a ceiling, or you can support a ceiling off of 38 foot walls on each side of this bay, your best option is to blow in insulation directly above said ceiling. First choice would be granulated Rockwool (it is not affected by moisture and does not degrade with time), second would be fiberglass. If using steel panels for a ceiling, do not blow cellulose on top of it, as chemicals in it are likely to react negatively with steel.

Leave attic area above ceiling open to balance of building, so as not to create an unventilated dead air space. Otherwise, you will need to add gable vents (as an air intake) and vent the ridge.