Things You Want to See on a Building Proposal/Contract
Maybe you (as a soon to be building owner, building contractor or provider) are satisfied with being overly vague when it comes to what you are buying or selling. From a contractor/provider standpoint, this gives you lots of leeway to add 'extra dealer margin' by providing minimal (or less than minimal) components to unsuspecting buyers.

Now, my employer happens to offer a "price match guarantee" for any comparable building package. If I had a dollar for every quote from a competitor where it was impossible to even determine what was being proposed to be provided, I would be sitting in a beach chair along an ocean, not writing this article!

Today I am going to address a few highlights, if you are pondering a building investment, you will want to pay close attention…provided getting best investment for your money is important.

Things like building dimensions (width, length, eave height and roof slope) as well as roof style (gable, single slope, monitor, gambrel, dual slope, etc.) might seem to be no brainers, however I find even some of these certainly important features to be overlooked!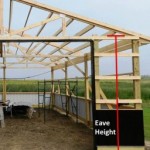 While there does exist an actual ANSI (American National Standards Institute) definition of Eave Height – most builders and vendors are unawares or just plain choose not to use it. Somewhere your agreement should spell out what is proposed or provided so all have a clear understanding. (Please read more here: https://www.hansenpolebuildings.com/2012/03/eave_height/)


Will this building be fully enclosed, partially enclosed or merely a roof? It makes a difference in wind design, so should be clearly delineated.

FEATURES

This is not meant to be a comprehensive list, but is to provide an idea as to how extensive it should be.

Thickness (gauge) of steel roofing and siding, as well as warranty AND substrate should be called out. Caution here as IRC (International Residential Code) Table R905.10.3(2) requires a minimum of AZ 50 for 55% aluminum-zinc-alloy-coated steel (Galvalume) or G-90 for Galvanized steel. These same requirements can be found in IBC (International Building Code) Table 1507.4.3(2). Lesser coatings can only be used for "U" buildings. Will there be wainscot, and if so will there be trim between it and upper wall panels?

How will roof steel condensation be controlled? Not addressing this now will cause challenges later. Integrated Condensation Control (Dripstop or Condenstop), Reflective Radiant Barrier (aka Bubble – and it is NOT insulation), Metal Building Insulation (vinyl faced fiberglass), Sheathing (OSB or plywood) with 30# or heavier felt or a synthetic ice and water shield? Tyvek or other similar housewraps (Weather Resistant Barriers) are not effective for condensation control.

How will any dead attic spaces be ventilated? Soffits, gable, ridge?

If other materials are to be used for roofing and/or siding, specifics as to thickness, quality and warranty should be clearly delineated.

Overhangs – open (no soffit) or enclosed (with soffit). Length of overhangs. Soffit material to be used (vinyl, steel, aluminum) as well as vented or non-vented.

Any overhead sectional or roll-up (coil) doors should be appropriately wind rated. Residential or commercial doors? Smooth faced, long panel or short panel? And glass, and if so, inserts? Specifics as to any manufacturer's stated R values, thickness of steel, interior backers, track options (standard, low headroom, high lift or with run of roof), color, finish painted or primed only, vinyl weather seals, steel trims on jambs,  openers and operators should be called out.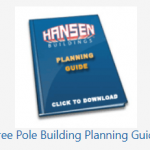 Entry door width and heights, is door wood, steel, aluminum, vinyl covered, fiberglass? Jambs wood, steel, aluminum, vinyl covered wood? Doors and jambs finish painted or primed only? Crossbucks? Raised Panel? Glass? Wind rated? R value? Keyed lockset, dead bolts?

Windows with dimensions, type of frame material (aluminum, vinyl, composite, etc.), type (sliding, single hung, double hung, fixed, casement, etc.). Glazing (single, double or triple pane, tempered or non-tempered glass). Color of frame. Integrated J channels? Screens? Gas filled? U-factor and SHGC.

Wall framing (girts) external or bookshelf? External girts rarely meet Code deflection requirements and framing will have to be added to create an insulation cavity or apply interior finishes.

Trusses designed to support a ceiling load? If for sheetrock, a 10 psf (pounds per square foot) bottom chord dead load is required.

Future Building Owners – if it is not specifically called out for, do not assume you are getting it. Building providers and contractors – if you are providing a feature and do not call it out, you are doing a poor job of selling yourself.

Our next article will delve into "Code" design requirements – don't miss out!