Insulating a Hybrid Building

Reader COLTON in DAWSON writes:

"Insulation question? I am going with a Worldwide Steel Building. Identical to a Perka. Part of it will be shop and part will be house. It's a steel web truss with wood purlins and girts. I'm stuck on a lot of guys say just put house wrap on the entire outside or a foil. And batt/roll in the 2' purlin and girt spacing. And some want to use metal building insulation and roll it on top. I'm not sold on the squashing it in between the tin and possibly causing issues there. I would rather house wrap it and fill in between the purlins and girts with unfaced fiberglass then add a clear vapor barrier inside and then install tin inside the shop and drywall inside the house. Just want your honest opinion since you lived and learned. I enjoy all your helpful information. Thanks!"

My grandson Colton just turned 10 yesterday!

Thank you for your kind words.

You are now faced with what can be a perplexing challenge with a steel framework/wood girts and purlins hybrid building – how to best insulate.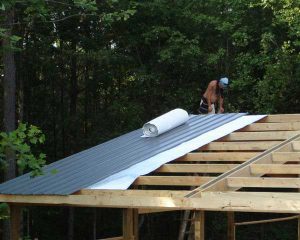 For walls – siding, weather resistant barrier (aka house wrap), unfaced batts, clear poly, interior finish works fine. On your roof, house wrap allows moisture to pass through and be trapped between it and roof steel – possibly causing premature degradation of your roofing. You need a thermal break directly below roof steel. I would recommend an Integral Condensation Control (https://www.hansenpolebuildings.com/2020/09/integral-condensation-control-2/). If this is not an available option, then a Reflective Radiant Barrier with well-sealed seams will work (we have it in six foot wide rolls with a tab on one side having an adhesive pull strip). Metal Building Insulation can be an effective condensation control under roof steel (provided seams are sealed), however it is difficult to work with, provides limited actual insulation value and can cause your roof steel to pucker. Code requires ventilation from eave-to-ridge above batt insulation between purlins, and there is just no practical way to do it. Instead, place ceiling joists between bottom chords of steel frames and blow in fiberglass insulation. Vent dead attic space above insulation (ideally at eaves as an intake, ridge as an exhaust).