The Insulation Shows at the Edge of My Roof- Inside Closure Fix 
Reader LARRY in SPRINGTOWN writes: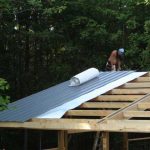 "We bought a Mueller building and hired their recommended installer. The roof went on yesterday. They did not use closure strips at the eaves so the insulation is visible on the outside of the building under the panel ridges where normally the closure strip would be visible. We do not have rain gutters. What is the solution besides jamming in glued pieces of closure strip at each exposed end of panel ridges?"
For those who are not from Texas and vicinity – Mueller Metal Buildings provides prefabricated all steel buildings as well as steel roofing. In looking over their website, it appears they do have a contractor assurance plan for residential steel roofing, however it would be highly unusual for them (or any company) to "recommend" an installer for complete building installation. They may have provided one or more names of installers for you to have vetted out on your own.
I will guess and say your building has metal building insulation under the roof steel (read my fascinating journey with Metal Building Insulation here: https://www.hansenpolebuildings.com/2011/11/metal-building-insulation-in-pole-buildings-part-i/).
Back in the day when this product was the condensation control of choice for roofs I experienced the same issues with installers who refused to follow instructions. The easy solution was, during installation, to run the insulation a few inches past the eave girt, peel off the insulation from the vinyl backing and fold the vinyl facing back over the eave girt. The trim at the top of the sidewalls would cover the white vinyl and all was good.
When the insulation remains exposed, the is the potential for the exposed fiberglass to wick rain water up and into your building (not fun).
So, what is the Solution?
DON'T PAY THE INSTALLER until the issue is fixed.
There are a couple of routes for the builder to follow, both of which involve removing the row of screws from the roofing into the eave girt/purlin.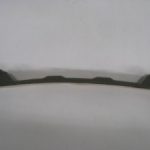 Number one – do as recommended a few paragraphs ago, or number two – the insulation can be trimmed off at the outside edge of the eave girt/purlin and inside closure strips (https://www.hansenpolebuildings.com/2015/12/the-lowly-inside-closure/) can be placed to seal the space and keep the insulation dry.