Help! My Roof Screws are Loosening!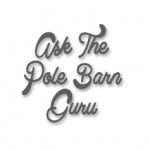 Our office gets all sorts of phone calls. Besides those clients who are potential investors in new post frame buildings, there are those who have made mistakes (or had builders make them on their behalf) and are looking for fixes.
One call came in earlier this year to Hansen Pole Buildings' Designer Rachel, who wrote:
"Guy called wondering about buying insulation from us. He was looking for fiberglass. He asked some suggestions and said he has a little issue in his roof.  He has blanket insulation and said his screws are loosening.  I told him I thought it may be the insulation was too thick and the screw was not tight to the framing.  He understands but is wondering what the suggestion may be.  Wondering if he should replace all the screws?  Told him I thought it would still be an issue but not sure.  Thoughts?"
The caller's building has a product known as metal building insulation under his roof steel. This insulation is most typically a six foot width roll of thin fiberglass insulation usually bonded to a white vinyl vapor barrier. This insulation is installed over the roof framing with the faced side down (fuzzy side up) then the roof steel is applied on top. Installed properly, with the seams tightly sealed (which rarely occurs) and any rips taped, it does make for a fairly effective condensation control.
It also makes for a lousy insulation solution, as the fiberglass is compressed nearly to nothing as it crosses each roof purlin. I've heard of builders selling metal building insulation as thick as six inches and trying to convince (and often getting away with it) clients they will achieve an R-19 insulating value!
All of this fluffy insulation wants to cause the roof steel to bend upwards in between the roof purlins, in some instances beginning to look like the Sta-Puff Marshmellow Man. Between this and the compressed fiberglass at each purlin – stress is laced upon each of the roof screws. If the screws are relatively short in length and/or small in diameter, they will eventually work loose (and cause leaks).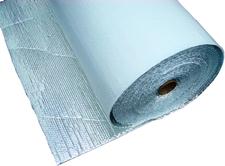 The best solution (although time consuming) would be to remove the roof steel and the metal building insulation, replacing it with a reflective radiant barrier and placing the steel back on the roof using larger diameter and longer screws.
If the building owner is willing to accept the look of what he has, he could attempt a fix just by changing out the screws.
The best solution truly would have been prevention – not having used metal building insulation to begin with.