How To Install Roof Reflective Radiant Barriers
DAVE in SPRING HILL writes:

"Can you please tell me how the reflective radiant barrier is applied? Does it go directly on top of the fully recessed purlins and then the steel is screwed over top of that? Is it applied vertically or horizontally? All of the videos that I've seen say there needs to be an air space between. It should have been stressed to me at the time of purchase that this was a critical material of the construction of my shop and it was not portrayed to me in that manner. I purchased it separate and I am at that step.  I believe the sales person must have been new because a lot of mistakes were made."

Any steel roofed building should have some sort of provision made to prevent warm moist air from inside contacting cooler roof steel and condensing. There are many possible solutions to this – two inches of closed cell spray foam, an integral condensation control or a reflective radiant barrier being most popular (as well as being aligned from greatest to least in terms of financial investment of materials). Chapter 14 of your Hansen Pole Buildings' Construction Manual does give detailed instructions for this installation.

Post frame buildings have a myriad of possible options and accessories, as well as being utilized for a plethora of end uses. Considerable discussion is most often involved prior to an order being placed – and on occasion there are cases where important features are lost during discourse.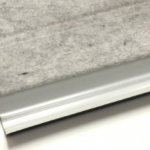 We do attempt to avoid situations such as yours and you may recall having approved this Dripstop to help control roof condensation.
Here are your requested installation instructions:
Start roof reflective radiant barrier at same building end roof steel installation will begin. galReflective radiant barrier roll end begins flush with eave strut outside edge. Reflective radiant barrier leading "long" edge begins flush with building end truss outside. 
Reflective radiant barrier is installed to run eave to eave over ridge. Splices are best made directly on fully recessed purlin tops.  
Other than to make a roll end square, starting edge will remain untrimmed.  Start flush at eave strut outside edge.  Opposite end is cut flush with opposite eave strut outside edge (or ridge purlin upper edge for translucent or Vented Ridge applications).
Using a minimum 5/16" galvanized staple, staple through reflective radiant barrier to eave strut top.  As an alternative to staples, 1" galvanized roofing nails (with big plastic washers) also work well.  Roll out reflective radiant barrier across fully recessed purlins (up and over ridge) with aluminum side up and white side down (towards building inside). 
Pull reflective radiant barrier past opposite eave strut edge and staple to top. Trim roll off flush with opposite eave strut outside edge.  
Install next roll in same manner, stretching roll tightly, align properly and close butt sides.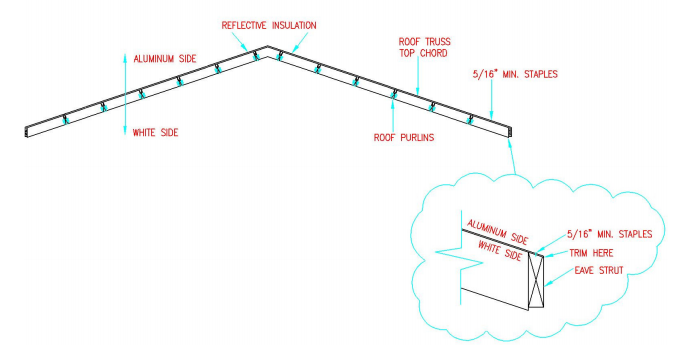 For A1V reflective radiant barrier with an "adhesive tab": These rolls have an approximate 1" tab (without air cells) extending along one reflective radiant barrier roll long side.  At a seam, where two reflective radiant barrier rolls are joined, pull tab across adjacent roll by 1", remove "pull strip" from adhesive, and firmly press two rolls together. Properly installed, each roll will have a 72" net coverage.
For square edge rolls, use a butt joint and seal seams properly with tape.  
2" white vinyl tape or a silicone bead can be used to make permanent seams between ends and reflective radiant barrier roll sides. 
For maximum air and vapor tightness, keep perforations in reflective radiant barrier to a minimum. Seal all perforations with reflective radiant barrier tape. 
Exaggerated claims are often made for insulating value of reflective radiant barriers and all of them rely upon a dead air space in a completely sealed scenario – great in a laboratory situation, however impossible to achieve in real life building construction. Reflective radiant barriers should be looked upon (when seams are properly sealed) as a condensation deterrent.