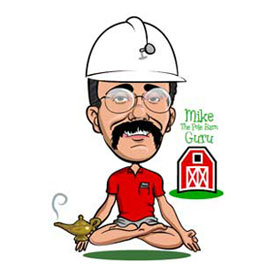 There are lots of little pieces involved when it comes to the assembly of a pole building, which the average lay person would have little or no knowledge of. Some of them don't make a difference until the lack of them (or their failure to perform) becomes apparent.
One of these unsung heroes is the "Outside Foam Closure Strip".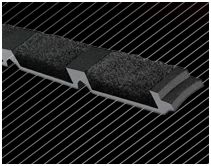 Imagine you are inside of your brand new steel roofed pole building, enjoying the wonderful space. With steel roofing, In most cases, every nine inches is a rib about ¾ of an inch high….and unless this space between the roof steel and the ridge cap is filled with something, it is an entry point for outside light (no big deal, in most cases), as well as obnoxious flying things – like birds, hornets and wasps (much bigger deal).
Having outside foam closure strips installed between the roof steel and the ridge cap can be the difference between a happy or unhappy pole building owner. What is even sadder for the building owner without them is, they are very economical.
Not just any foam strip will perform admirably for years. There are providers who will supply (as well as builders who will install) open cell foam instead of investing in a true inside closure. Open cell foam typically comes in rolls of 10 to 25 feet in length, and easily compresses to conform to the rib pattern of the steel. It also is not UV resistant – resulting in deterioration and a very short lifespan.
Hansen Pole Buildings has done the research and found what we feel is "the product" when it comes to Outside Foam Closure strips. Manufactured by Marco Industries™, the closure foam is hydraulically die-cut for a precise fit. The use of crosslink polyethylene foam with a unique coating provides a better UV resistance and better durability than the industry standard. Independent testing confirms Marco's 1.5 density foam provides a better UV stability than the competitive products with a 2.0 density. What does this mean to the average consumer? The Marco Industries Closure-Foam™ is UV resistant and designed to last 40 years or more!
Marco's Closure-Foam is designed to stay put. A generous ¼" adhesive bead of M63™ industrial adhesive on each strip eliminates blow away problems. The adhesive will even adhere in subfreezing temperatures and on wet surfaces!
Don't sacrifice quality for price – do it right the first time!