Whiskey Tango Foxtrot! Is it Ventilation?
I really enjoy good food. In order to continue doing so and avoid weighing significantly more than I should, I do a treadmill run nearly every morning. To keep from expiring from utter boredom of exercise, I have wall mounted my flat screen LED television within easy viewing distance. With subscriptions to Amazon Prime and Netflix, I have yet to run out of movies and series to view. Most movie selections are either fairly old, or were box office challenged. One of these movies was 2016's Tina Fay starring in Whiskey Tango Foxtrot, with a budget of $35 million and a box office take of $18.3 million.
Well, this article isn't about how Tina Fey carried this movie. To be precise, it's a movie title conveying my expression upon doing some recent reading.
Back in 2016 I had penned an article (https://www.hansenpolebuildings.com/2015/06/overhang/) mentioning a specific pole building company by name. A representative of this company recently contacted Hansen Pole Buildings' owner Eric to let him know they did not appreciate being named. I was even kind enough to have included a live link to their website in my article, providing them with free press.

While editing, I happened to peruse their website. When a Whiskey Tango Foxtrot moment hit me…..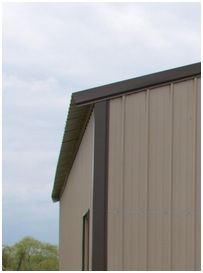 Under 'Building Features' I found this gem, "(Our standard roof to eave or gable design creates a fully ventilated structure making boxed overhangs an option, not a necessity)".
I had to read it several times to fully get my head around what I thought I had read.
In order for this statement to be true, roof steel high ribs would need to remain unobstructed – allowing a free flow of intake air. This could possibly pose a challenge if one desires to keep small flying critters from entering a dead attic space.
In my humble opinion, this attempted ventilation intake ranges from laughable to totally ridiculous. However, I have found, nearly anything can be spun to sound like a benefit. What should be happening between roof steel and eave strut – placement of an Inside Closure (https://www.hansenpolebuildings.com/2015/12/the-lowly-inside-closure/), to seal these openings.
IBC (International Building Code) 2015 Edition tends to agree with me.
"1203.2.1 Openings into attic.
Exterior openings into the attic space of any building intended for human occupancy shall be protected to prevent the entry of birds, squirrels, rodents, snakes and other similar creatures. Openings for ventilation having a least dimension of not less than 1/16 inch and not more than ¼ inch shall be permitted. Openings for ventilation having a least dimension larger than ¼ inch shall be provided with corrosion-resistant wire cloth screening, hardware cloth, perforated vinyl or similar material width openings having a least dimension of not less than 1/16 inch and not more than ¼ inch."

Thinking about a post frame building other than from Hansen Pole Buildings? Before possibly throwing away your hard earned cash, give us a call – if we feel someone else's building has a better value than ours, we will be first ones to tell you to invest in it.