This Wednesday the Pole Barn Guru addresses reader questions about the average cost of "a 1200 sf 2 bed 1 bath 1 carport 1 small porch for a contractor in WA state?" If a person can build one structure for a garage with a dwelling unit, and if it would be beneficial to install commercial girts and external/barn girts.
DEAR POLE BARN GURU: What is the average cost for a 1200 sf 2 bed 1 bath 1 carport 1 small porch for a contractor in WA state to build one of your kits? TERRI in LONGVIEW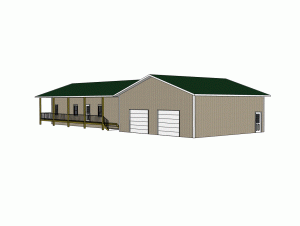 DEAR TERRI: Fully engineered post frame, modest tastes, totally DIY, move in ready, budget roughly $70-80 per sft of floor space for living areas, $35 for all others. Does not include land, site prep, utilities, permits. Your new Hansen Pole Building kit is designed for an average physically capable person, who can and will read and follow instructions, to successfully construct your own beautiful building shell, without extensive prior construction knowledge (and most of our clients do DIY – saving tens of thousands of dollars). We've had clients ranging from septuagenarians to fathers bonding with their teenage daughters erect their own buildings, so chances are – you can as well! Your new building investment includes full multi-page 24" x 36" structural blueprints detailing location and attachment of every piece (as well as suitable for obtaining Building Permits), our industry's best, fully illustrated, step-by-step installation manual, and unlimited technical support from people who have actually built post frame buildings. Even better – it includes our industry leading Limited Lifetime Structural warranty! If hiring it done turnkey, expect to pay two to three times as much. This is why so many of our clients do some or all work themselves.

DEAR POLE BARN GURU: My question is that i want one pole barn to house at least 4 vehicles, an RV as large as 45 ft. and a small home around 500 sq feet. Is this possible? JASON in OWENSBORO
DEAR JASON: From a structural standpoint what you propose is entirely doable. Some jurisdiction set minimum square footage requirements for residential living space, so you will want to reach out to your local Planning Department. https://www.hansenpolebuildings.com/2020/01/your-barndominiums-planning-department/
DEAR POLE BARN GURU: Is it beneficial to install both commercial girts as well as barn girts? The barn girts would serve as a larger mating/screw surface. Additional costs aside, seems like it might be nice! MATT in SPOKANE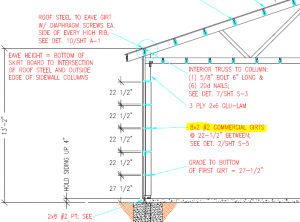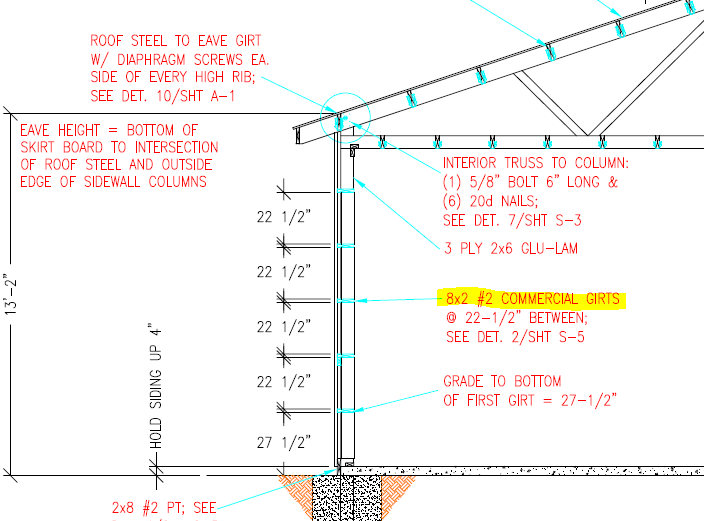 DEAR MATT: While it would certainly make for a larger screw target, when wall steel panels are predrilled, keeping screw lines straight and hitting commercial girts really is not an issue. Outside of extra materials and more labor, there are a couple of areas of possible concern: 6×6 columns vary in dimension. With a 2×8 commercial girt, extending 1-1/2″ outside of columns, a 6×6 up to 5-3/4″ can easily be hidden. If your idea is to use a 2×6 commercial girt, behind a 2×4 external girt, if columns run over dimension they will leave an uneven surface for internal finish. Of course, should you mount a 2×4 external girt above or below a 2×8 commercial girt (forming an "L"), then this concern goes away. Your other possible challenge would be in connecting these two members. Greatest force on wall girts is outward suction, so your 2×4 external girt and 2×6 bookshelf commercial girt will need to be adequately connected so as to not have external girt pull away and fail. This connection should be analyzed by an engineer.