DEAR POLE BARN GURU: Hi, I'm planning on building a ( 32' x 60' x 12' ) Pole Barn with 4/12 scissor truss.  I want to price out rough cut lumber on walls and ceiling.  How do I calculate the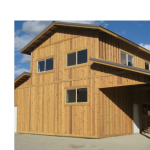 Amount of board feet lumber I need to cover the walls and ceiling.
Thanks BRIAN
DEAR BRIAN: The first thing you should do is to consult with the engineer who has designed your building to find out if he or she will approve your use of ungraded rough cut lumber (which, unless you season it thoroughly, is going to have a very high moisture content and is going to be prone to warp, twist and shrink as it dries). I cannot imagine very many registered design professionals who are going to approve with the proposed use of your material. In the event you are considering constructing a building without having an engineered set of building plans which are designed specifically for your site and your building – you are putting yourself, your loved ones and your possessions at serious risk. The few dollars you might save by not having engineered plans are just not worth it – please do not be penny wise and pound foolish.
Back to your question – you can take a count of the boards on your engineered building plans which will give you the required lengths and quantity required.


DEAR POLE BARN GURU: Need an insurance company that will insure 1/2 acre lot with a pole barn that is adjacent to 1/2 acre lot with a lake house but on two separate deeds. FRANK in LOUISVILLE
DEAR FRANK: I would suspect any independent insurance agent can find you several companies who would happily write a policy for you. Try calling one or more in your area.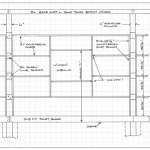 DEAR POLE BARN GURU: Can you explain girt detail why the 2×6 are placed horizontal and not vertical and why they hang off 1.5 inches past the columns? OWEN in FLORA
DEAR OWEN: This article explains the why of how the wall girts are oriented: https://www.hansenpolebuildings.com/2012/03/girts/
They hang 1-1/2″ outside the columns so the outside face is in the same plane as other members such as the 2×8 pressure preservative treated skirt board, large door headers, etc. It also allows for any wiring to be placed horizontally without having to drill through columns.