There is just plain a lot of bad (and scary) information floating around out there on the internet. For whatever reason, people will believe a random unqualified answer from a stranger, rather than going to a highly educated expert (e.g. Registered Professional Engineer).

Reader DYLAN in BEDFORD writes:

"I am building a 50×60 using 2×6 stud frame walls. Trusses 4'OC. The garage area (30×60) will have around 12'ceiling. The living area (20×60) will go back and stick build ceiling rafters 2'OC to make 8'ceilings. 12' ceiling on the living area is just more to heat and cool – not necessary. My builder right now plans on putting 2×4 purlins and 2×4 girts on roof and side walls. Then wrap the whole thing with tyvek and out metal on. 
My question starts with is this ok? 
Should I consider plywood/osb on the roof or walls in lieu of 2×4 purlins/girts?
Are 4'oc trusses ok if I am going back to the living area and building ceilings 2'oc?
Are 2'oc rafters ok assuming I finish the ceiling with 5/8" drywall or wood tongue groove or similar?
I will probably spray foam insulation in the living area. This should help with noise during rain on the metal roof."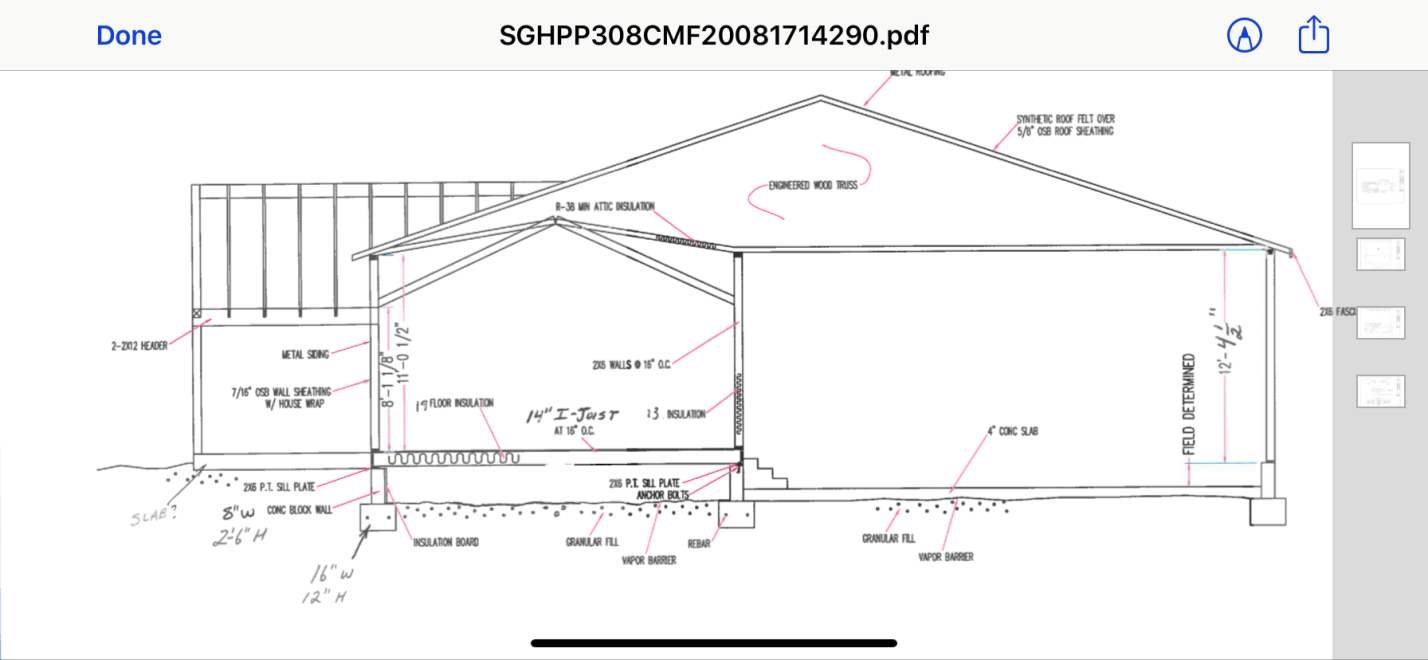 Mike the Pole Barn Guru responds:
My recommendation would have been for you to erect a fully engineered post frame building, rather than spending tens of thousands of extra dollars in an attempt to make a stick framed house look like a pole building.

Ultimately how your building is assembled structurally should be up to whatever engineer you (or your builder) hire to provide your home's engineered plans. Building Codes do not allow for stick framed walls taller than 11'7″ without engineering, so you should be there already.

Steel panels should not ever be screwed into OSB only and even plywood only would only be on roofs if you are using a standing seam (concealed fastener) steel. I (and most likely your engineer) will specify 2×4 or even 2×6 girts and/or purlins in order to provide a proper surface to screw steel panels to. Your trusses every four feet may be adequate in your living area, it will depend upon how your engineer designs structural attachment of your furred down ceiling, as well as weight supported by it. Rafters 24 inches on center will provide sufficient support for 5/8″ drywall.

You should not place Tyvek between roof framing and roof steel – as Weather Resistant Barriers (WRB) allow moisture to pass through. This could allow condensation to be trapped between your home's WRB and roof steel, causing premature deterioration.