Help! My Barndominium Roof Is Dripping!

Reader TIMM in WHITEFISH writes:

"Thanks for taking my question. I recently built a barndominium in NW Montana. I tried to find someone to build it for me, but the demand and cost in the area had gone up so much that I had to do almost all the work on my own. I was not completely unfamiliar with building but not an expert by any means but I was able to get it built with helpful videos found online. I finished the home in late October and have moved in. The home is 28'x36′ with 10′ walls and is all living space, no garage. I had planned on doing spray foam insulation around the entire shell of the barn and had hired a company in August to come out and spray the barn but they were not going to be able to get to the building until December at the earliest but we were willing to do it and fight through the winter in our camper. Our plumber mentioned a product to us that he had seen some other clients use called Prodex that had similar characteristics of spray foam with a reflective surface on both sides and it was something I could do myself and much sooner. I did some research and the product looked good and the reviews looked good so I bought some and installed it. The steel was already on when I installed it so the Prodex was installed by stapling or screwing to the Purlins/Girts around the whole building which was an install method on their website. While we were mudding/painting/texturing I noticed some condensation in the attic in between the steel and the Prodex insulation (I could see where it was coming through a seam in the Prodex). I asked some people and they thought it was just because I was putting a lot of moisture in the air that was causing the condensation and it would dry out when we were done. On a recent trip up to the attic I noticed that the steel is still condensating when it is cold outside and the Prodex itself seems to be condensating as well. I emailed Prodex and they told me that it is caused by cold air moving across the inside surface of the steel and I should put foam around the ridge cap, eave edge of roof and tops of wall. I have foam around the ridge cap, but nothing on the ridge cap ends, I have foam on the eave edge of the roof, but only in the high ridge parts, and I have nothing on the walls. I am also concerned that this is happening inside of the walls which may lead to a bad mold problem next summer. My question is, how do I get it to stop condensating? I am ready to do whatever I need to do. I just don't want to throw ideas at the house until something works. As far as ventilation goes, I am sure I do not have enough but was hoping to address that in the summer months. I do not have eaves on the building which I regret so my only real ventilation is the ridge cap and the little bit that may be coming through the ridges on the eave edge of the roof. I thought about gable vents, but I felt like that would let too much cold air in and would make the issue worse, but maybe that is what I need? If I put in gable vents, do I pull out the Prodex insulation and leave bare metal on the inside of the attic? I am trying to figure out a way to reduce the moisture right away (dehumidifier?) while I work on a long term solution but I don't know which direction to go to solve this issue. I thought about pulling off the steel and putting in plywood sheeting, but we are in the middle of winter and that would have to wait until Spring at least and I am afraid I will end up with too much water damage by then. I have even considered putting sheeting under the roof and replacing the outside walls with wood siding but the cost would be high and I feel like there should be a solution to this issue. For heat we electric wall heaters (Cadet in-set wall units) occasionally and a pellet stove most of the time. We put the Prodex insulation as well as blown insulation in the attic to about 12 inches deep and we put Prodex as well as rolled insulation in the walls for a total of about an R30 value. Dryer and bathroom vents both go outside and nothing is venting into the attic. Any help would be appreciated! Thanks."

Mike the Pole Barn Guru says:

Kudos to you for doing a D-I-Y. Sadly you were lead to a product (Prodex) claiming to be insulation, however in reality it is a condensation control, and only if totally sealed.

All of these issues could have been easily addressed at time of construction had your building kit provider given you proper advice.

First thing to do is to get your attic properly ventilated – you need to add at least 121 square inches of NFVA (Net Free Ventilating Area) to each gable end. This will give you an air intake and your vented ridge will then function as a proper exhaust. By itself, this should greatly minimize, if not totally cure your problems.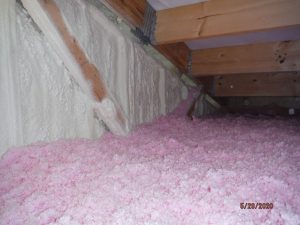 As time allows, remove roof Prodex, have two inches of closed cell spray foam applied to roof steel underside, and increase thickness of blown in attic insulation to R-60.

If you do not have a well-sealed vapor barrier under your concrete floor, if possible, seal top side of it (this is where moisture is coming from).

Heating as much as possible with your pellet stove will also help to dry your interior air out and provided your slab is sealed, should help greatly.

I do have some concerns about your walls, if you have faced insulation batts with Prodex on outside of batts, you are potentially trapping moisture between two vapor barriers. If this is indeed your case, come Spring, remove siding (one wall at a time) , remove Prodex (as much as possible) and add a Weather Resistant Barrier (Tyvek or similar) to the exterior of framing, properly seal all wall openings and reinstall wall steel.