My Building Inspector Made Me…..
An all to familiar tale from those who go by the premise, "penny wise and pound foolish"…. in the misguided attempt to shave a few dollars off the investment in a new building, the price of the engineer sealed plans has been deducted from the budget.
Very rarely is this the correct choice, as has befallen reader COREY in HOPEWELL who writes: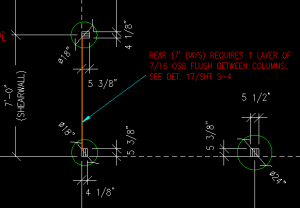 "My building inspector has made me use a continuous lvl on both sides of a 6×6 pt on all four sides (gables included) of a 32×32 pole barn with trusses at 24″ centers. He approved the thrulok fastener. The fasteners are made for conventional lumber so they are not long enough I would like to use a carriage bolt but he wants a drawing or approved sketch with the fasteners size, total per post and locations on each post including corners. The posts are on 8′ centers The barn is constructed with the trusses installed. I need a proper fastener to continue. Can you help?
Mike the Pole Barn Guru Writes:
You are now finding out all too quickly (as well as the hard way) the advantages of investing in an engineered post frame building kit package.
Without engineering for your building, you are essentially putting the building officials in the position of being the defacto engineer of record. As such if an error is to be made it is going to be on the side of conservatism and caution. Very few building officials are actually engineers, so they have to cover not only their posteriors, but those of the jurisdiction they represent.
Without knowledge of any of the loads which are to be applied to your building, I cannot speak to the adequacy or need for LVLs on both sides of the building columns. If you are using a structural truss on each building end (highly recommended) then the LVLs across each endwall are essentially doing nothing but emptying your pocket book.
The FastenMaster™ ThruLok screw bolt comes in lengths of 6-1/4″, 7″ and 8″. If your intent was to place dimensional lumber truss carriers on each side of the columns, the overall thickness of 8-1/2″ would have made their use prohibitive from the get go. I am hopeful your design utilized the LVL truss carriers being notched into the columns, which is an excellent solution to gravitational forces and leaves only the uplift forces to contend with, in which case, your choice of fastener (since the building official initially approved them) should be a longer ThruLok.
In answer to "can I help", most certainly – contact a local registered professional engineer who, in all reality, should do a site built analysis of your building and provide you with sealed plans for all of the members along with the proper connectors. You might be able to find an engineer whom would design just this connection, however doing so could make him or her the engineer of record for the entire building, and I would not want to risk engineering registration on this type of situation. It would have to be all or nothing in my eyes.