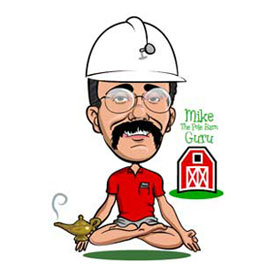 How Not to Do a Post Frame Shear Wall
Reader DAVID in MIDDLETON writes:
"Hi we are currently building a 40/72 pole barn. We are wrapping the bottom 4 feet in OSB for sheer strength along with sheeting the roof with osb. We want to insulate the walls and put a drop ceiling in the pole barn to fully insulate it later this year. What do we need to do now for ventilation while we are building it to make sure we don't have condensation issues later."
Whilst friend David is writing about one issue, he is throwing out a bone as to why self-engineered post frame buildings are not always the best route to go. David is well intentioned, however his design solution would result in added expense without added benefits.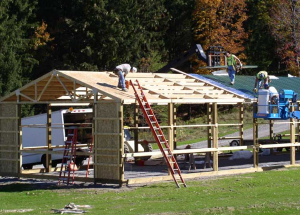 Always (may I repeat Always) construct only post frame (pole) buildings which are designed by a RDP (Registered Design Professional – engineer or architect) specifically for your building upon your site. You will always get piece of mind and usually the RDP will save you more money than what you invested for their design work.  
Here is my response to David:

Before we get to discussing your question, a few words about your design.

Wrapping the bottom four feet in OSB is going to do little or nothing to improve wind sheer resistance. In order to be effective as a sheer wall, the OSB needs to run from the splash board up to either the eave girt on the sidewall or the bottom chord of the truss on the endwall. All panel edges need to be blocked with 2x material. The shear panels should be no less than a 1:4 ratio (one foot of shear panel width per four feet of height) and ideally 1:2. On the roof, make sure to use at least 30# felt between the OSB and steel roofing and locate the roof screws so as they go into the underlying purlins, not merely into OSB.

Back to the question at hand…..

Your building should have vented soffits, of at least 18 inches in width to provide an adequate air intake. Trusses should be fabricated with raised heels – ideally two inches higher than the thickness of the attic insulation. Take care not to block the airflow from the soffit with the attic insulation. Vent the ridge.

Pour the slab on grade only over a well sealed vapor barrier, otherwise excess moisture will enter the building from the ground beneath the building. Also, the slab will need to be sealed – not as good as the vapor barrier route, but it is better than doing nothing.

Completely fill the wall cavity with insulation. Unfaced batt insulation can be used, however BIBs will be a fair superior design solution. Read more about BIBs here: https://www.hansenpolebuildings.com/2011/11/bibs/.
Either choice of wall insulation requires a clear visqueen vapor barrier on the inside. Make certain to seal any seams, rips or tears. There should not be a vapor barrier between the ceiling framing and ceiling materials.