Proper storage of trusses at the job site.
Long time readers (or those with time on their hands to have read my previous nearly 1700 articles) will recall in a past life I worked in or owned prefabricated light gauge steel connector plated wood truss manufacturing facilities. In my first long-term position as Sales Manager at Coeur d'Alene Truss (now Coeur d'Alene Builders Supply http://www.cdabuilders.com/) we fabricated huge sets of "saw horses" so we could store trusses vertically in these bunks.
Sadly I see much mishandling of trusses at manufacturing plants, upon delivery and at jobsites. Below are tips to keep your new post frame building's trusses bright, fresh and structurally sound.
Trusses store best when standing upright.  
Shore and brace standing trusses well to keep from toppling. Trusses stored other than in a vertical position can and will warp, and become difficult to use.  
Store trusses with "tails" (overhangs) elevated so truss weight rests on the bottom chords, not on the truss tails..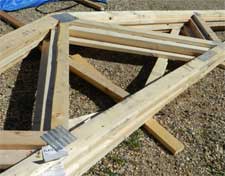 Unload trusses in bundles and store on level ground, but never in direct contact with ground (to avoid collecting moisture from the ground). Allow for good drainage at truss storage location in the event rain occurs before installation. Protect trusses from damage resulting from on-site activities, environmental conditions or weather. Exercise care at all times to avoid damage to trusses due to careless handling during delivery, unloading, storage, and installation.
In warm, rainy weather, moisture regain in unprotected trusses can result in fungal staining. Wetting lumber also results in swelling. Subsequent shrinkage may contribute to structural distortions.
To store trusses for a long time period, cover with a water repellent tarp for protection. Plastic is an acceptable alternative, provided there are side openings to allow air flow.
Handle pole building trusses in such a way as to prevent toppling when banding is removed from bundles. Trusses stored on black top (asphalt) or other impervious surfaces and continuously moved around the construction site are subject to damage when they are slid along the surface with equipment. As a result, galvanized coating on connector plates may be removed, allowing plates to rust and possibly reduce plate thickness.