Storage of Steel Roofing and Siding at the Job site 
All steel roofing and siding panel bundles are inspected and approved by manufacturer's quality control inspectors before shipment. Inspect panels for any moisture content or shipping damage upon delivery and advise the materials carrier immediately.
Bare (non-painted) Galvalume sheet, like galvanized, is subject to wet storage staining and turns gray to black if moisture is trapped between coil laps, cut length sheets, or roll formed parts during shipping and storage. Steel mills treat Galvalume sheet to delay wet storage staining; however, take precautions to keep Galvalume sheeting dry at work site.
Jobsite storage of steel building panels (provided by Building Products Technical Committee of National Coil Coaters Association):
Two Rules to Live By:
1)  Keep job site storage time to a minimum with proper scheduling
2)  Keep panels dry.
"Moisture trapped within panel bundles can cause the finish to soften and become more susceptible to erection handling damage. Panels stored wet for extended periods in humid conditions will oxidize (rust). Such damage is avoidable with proper planning and practice.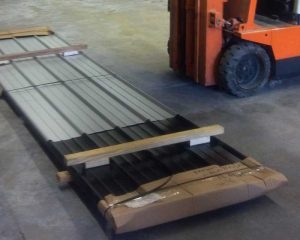 Panel bundles should be stored under a roof  or at least, out of direct sunlight. Bundles should be slanted at an angle [from end to end] sufficient to facilitate drainage and high enough off the ground for good air movement all around. Do not use tight-fitting plastic-type tarpaulins as panel bundle covers. While they may provide protection from heavy downpours, they can also delay necessary ventilation and trap heat and moisture causing the so-called "greenhouse effect" that accelerates corrosion. Long panels must have additional support to prevent sagging and potential water accumulation in the sag.
If panel bundles arrive wet or become wet at the job site, break them open and allow them to dry completely."
When moisture is found, besides breaking apart bundles, drain each panel and wipe dry. After dried, carefully re-stack panels and loosely recover allowing for ample air circulation.
Extended panel storage in a bundle is not recommended. Prevent bundled sheets from being in contact with accumulating water. Under no circumstance store sheets near or in contact with salt water, corrosive chemicals, ash, or fumes generated or released inside a building or nearby plants, foundries, plating works, kilns, fertilizer, and wet or green lumber.
Steel Roofing with Condenstop or Dripstop And Jobsite Storage  
Warning: Storing panel bundles prior to installation could allow moisture to become trapped between panels and may cause damage to panels. This moisture can originate from a variety of sources such as rain, high humidity or condensation. Panels should be stored in a dry location and installed as quickly as possible when arriving at the job site to prevent damage. If this is impossible, proper consideration should be given to separate panels to allow for air circulation prior to installation. Allowing moisture to become trapped within panel bundles can void all panel warranties.