Insulating a Room in an Unheated Pole Barn
Regular readers of this column recognize insulation as being a hot (pun intended) topic of discussion – not just entire buildings, but also of a room or rooms in an unheated pole barn.
Reader RICHARD in WOODSTOCK writes:
"I have a 50 x 75 pole barn with 15 foot side walls. The building is 8 years old and is unheated; I did insulate the roof during construction to prevent the traditional roof condensation which has worked well. Currently, I am in the process of building a 22 x 26 shop in one corner of the barn which will be heated and cooled.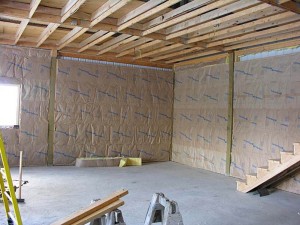 On the two outside walls of the shop I placed 1 ½ inch foam board between each of the barn wall girts then built 2×6 stud walls in between the pole legs. I then placed built two remaining free standing 2×6 walls to complete the shop walls. I placed faced R19 insulation in all the stud walls and finished them off with ACX plywood on the inside of the shop and CDX on the outside (free standing) shop walls. I then placed 22 foot long TGI's as ceiling joists so I can have storage above the shop which I then placed ¾ inch tongue and groove plywood on top. I am now at the point to insulate the ceiling and finishing it off with a suspended ceiling with a gypsum type ceiling tile. I plan on placing R30 unfaced insulation in each of the shop ceiling bays but don't know if I should use a poly type barrier before putting up the suspended ceiling.

I am concerned about moisture in the shop ceiling and issues that would cause.

Any advice you may have would be greatly appreciated."
Mike the Pole Barn Guru responds:
Normally ceilings do not have a vapor barrier because you want to have warm moist air rise and escape into the vented attic space. In your instance, you are creating a cavity which could very well collect moisture as the 3/4 inch T & G plywood is going to pretty much prevent moisture from escaping. If you use a vapor barrier on the underside of the TGIs, you have now trapped the moisture inside of the shop you have created. My instincts tell me to use the vapor barrier and be prepared to have some sort of exhaust fan to remove excess moisture in the room, or to have a dehumidifier. You can minimize the moisture in the room by using a good sealant on the top of the concrete slab. You might also look at using a product such as Roxul (https://www.hansenpolebuildings.com/2013/03/roxul-insulation/) in the ceiling, as its function is not reduced by any moisture which may become trapped in the cavity.