One of the beauties of post frame (pole barn) construction, is they are very forgiving during construction. A virtual plethora of errors can be made, and overcome, leaving a fine looking and well-functioning building.
There is one error, which is one of advance planning rather than installation skill, which is not so easy to rectify. The great majority of pole buildings are constructed with steel roofing and siding. Light weight, strong and durable – steel remains the covering of choice in creating a maintenance free structure.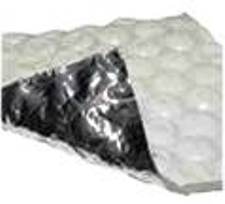 With the idea of "having the lowest price", far too many providers (both builders and package providers) neglect to discuss with their clients how important it is to have an insulated vapor barrier between the roof purlins (framing) and the steel roofing. Without a properly installed thermal break, condensation issues will arise. Once the drips start forming on the underside of the roof steel (trust me – it WILL happen), the beautiful brand new building, becomes not quite so functional.
Now there are some after the fact solutions for adding a vapor barrier.
Adding a significant R value per inch (albeit an expensive fix) is the use of professionally applied spray foam insulation. Priced this solution? If so, you better have been sitting down when the quote arrived.
Another, less expensive method, is to apply reflective insulation as a vapor barrier to the underside of the roof framing. This application works well in both all steel as well as post frame buildings.
Reflective insulation can be applied from eave to eave beneath the framing, using double sided tape. In order to have the insulation be effective, it is imperative all edges be tightly sealed with appropriate tape. If the reflective insulation was not purchased with an adhesive pull strip tab on one edge of the rolls, the seams between each roll will also need to be taped.
While this is a fairly inexpensive solution, from a materials standpoint, it will require a fair amount of time, working above one's head, and often at a considerable height.
Best solution of all – don't end up being penny wise and pound foolish in trying to save a few dollars by leaving the insulation out initially. The drip-drip-drip of condensation will most certainly leave a bitter taste.