Having a horse (or horses) in many parts of America means you will spend a great deal of time riding in inclement weather, or enjoying your horse tucked away safely in a stall. First one isn't much fun for riders, second doesn't get any riding done at all.

Reader (and new blog subscriber) DEBBIE in FERNDALE writes:

"Hello, I've just started receiving your blog and am enjoying it.  Would like to ask you a question about building a 70×150′ indoor riding arena which we plan to do this year.
It will be adjacent to our current outdoor arena, the space inside should accommodate two 20m circles and have enough at the short end to tie half a dozen horses.
We'd like two 14×14′ overhang doors centered in both short ends, allowing a hay trailer to drive thru during summer months when necessary.
The site is prepped with pit run.
Would appreciate your input on the benefits or cons of building a pole barn, steel, or solid sides with fabric roof.  Concerns include solid sides for wind shelter in the winter months when we will be using it, vs. ample light inside without too much provided electrical light – i.e. translucent upper side panels, light which fabric allows, etc.
Thank you for your thoughts!  Installation is upper NW Washington state."
Mike the Pole Barn Guru writes:
Thank you for becoming a subscriber to my blog articles. My goal is to be both entertaining and informative – hopefully your expectations will continue to be met.

Our oldest daughter, Bailey, is a professional horse trainer in Tennessee, so I have a distinct advantage in receiving continued feedback from her when it comes to indoor riding arenas and stall barns. Your proposed 70′ x 150′ arena would be fairly close in proportion to what Bailey claims as perfect riding arena dimensions (https://www.hansenpolebuildings.com/2012/07/the-perfect-indoor-riding-arena/). She will also give you kudos for putting overhead doors on each end, rather than sliding doors – she wants to be able to ride up to a door, hit a remote, and open the door without having to get off her horse.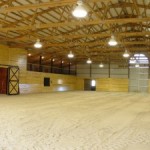 A fully engineer post frame (pole barn) arena allows you to utilize every foot of space, wall-to-wall. Natural lighting can easily be incorporated by using opaque white polycarbonate panels at one or both eave sidewall tops. While all steel (PEMB – pre-engineered metal buildings) are great for allowing wide clearspans, they have a downside when used for structures without concrete floors. Their structural steel frames require significantly sized concrete piers to be poured – at times requiring underground cables to be run from wall-to-wall in order to keep bases of steel frames from 'kicking out'.  Of course the scope of the foundation will not be known until after you have acquired a PEMB and have to hire another Registered Professional Engineer to do a foundation design. Concrete piers and horse's hooves do not mix well – I have seen steel arenas where interior wood kick walls had to be built several feet inside of steel frames, in order to protect hooves from piers. Fabric buildings are really not permanent structures, as fabric does deteriorate and eventually fail over time due to UV light.

Fabric buildings also have had a history of challenges supporting wind loads (https://www.hansenpolebuildings.com/2012/05/fabric-covered-building/) and snow loads (https://www.hansenpolebuildings.com/2012/05/fabric-buildings/).

Please reach out to me any time with questions – always glad to be of service in assisting people to get buildings they will love forever!