Back in the days when I was building pole buildings (I had up to 35 crews constructing them), we frequently had our overhead sectional steel overhead doors hung by a professional door installation company.
Several months after the completion of one particular building, we received a call from the client, who told us his overhead doors were no longer properly opening. His doors would open about four feet, and then stop!
Now this came as quite a surprise, as we had never had a call back on work performed by these installers. The installer was called and he agreed to send a crew out to adjust the doors so they would again open properly.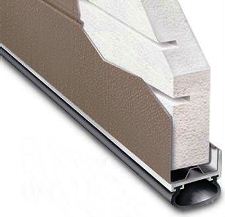 To their surprise, the installers found the doors, which were installed as non-insulated doors, were now insulated overhead doors! It turned out the client had (on his own) purchased several sheets of high R board insulation, cut them into strips to fit the inside of the door panels, and glued them into place.
Those who have used insulated foam board, realize them as a fairly lightweight product. However, the weight of them was enough to completely throw off the ability of the factory door springs to be able to lift the door.
The solution? Replace the original springs, with springs which were over a foot longer in size. The client's seemingly inexpensive "fix" to get insulated overhead doors, became suddenly fairly expensive!
There IS a lightweight solution to insulating (or adding more insulation to) existing overhead steel sectional doors – reflective insulation.
The inside of the overhead door panels need to first be cleaned to remove any dust or other debris. High strength double sided tape is then applied left to right across the top and bottom of each door panel. Reflective insulation (either white one side/aluminum the other, or aluminum each side) is then cut to the overall height of the door, and applied vertically to the double sided tape. If the reflective insulation product does not have a tab along one edge with an adhesive pull strip, the seams between each length of insulation need to be taped to provide a tight seal.
My caution – if you want to end up with insulated overhead doors, just buy them that way.  The door manufacturers will provide the cleanest application, including the right hardware to lift the door, once it's insulated.