This week the Pole Barn Guru answers reader questions about on old roof that leaks due to nails used in attaching steel, a request for builder referrals, and if a Hansen Building is available in a 48′ width– yes, they are.
DEAR POLE BARN GURU: My older metal barn complete with roofing nails, not screws, leaks badly. If I install eve trim would I use gutters also? Now, the building, 96×40 has neither. It leaks under the eves. Replacing the nails has worked some. KAREN in ELMA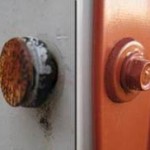 DEAR KAREN: Hansen Pole Buildings' warehouse is a roughly 50 year old post frame building with roof steel attached with nails and it leaked like a sieve. We used two cases of "super whammy" caulking to try to seal around nails, it helped some, but ultimately our only solution was new roof steel. Although it sounds painfully expensive, it really is going to be your only true solution. When you order new steel, make sure it comes with a factory applied integral condensation control and use 1-1/2″ diaphragm screws to attach (they are larger diameter, powder coated and have EPDM washers).
Continuous seamless gutters are always a good investment, provided you add snow breaks on your roof, if you are in snow country.
DEAR POLE BARN GURU: We are looking for a builder to put up a 70'x40′ pole structure for us — do you have any names of contractors/individuals who have put a Hansen building in the area? ESMEE in WENATCHEE
DEAR ESMEE: Your new building kit is designed for the average physically capable person, who can and will read and follow instructions, to successfully construct your own beautiful building shell (and most of our clients do DIY – saving tens of thousands of dollars). We've had clients ranging from septuagenarians to fathers bonding with their teenage daughters erect their own buildings, so chances are – you can as well!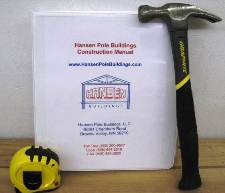 Your new building investment includes full multi-page 24" x 36" structural blueprints detailing the location and attachment of every piece (as well as suitable for obtaining Building Permits), the industry's best, fully illustrated, step-by-step installation manual, and unlimited technical support from people who have actually built post frame buildings. Even better – it includes our industry leading Limited Lifetime Structural warranty!
Currently (and for the foreseeable future) there is a nationwide shortage of building erectors. Many high quality erectors are booked out into 2023. We would strongly encourage you to consider erecting your own building shell.
For those without the time or inclination, we have an extensive independent Builder Network covering the contiguous 48 states (https://www.hansenpolebuildings.com/find-a-builder/). We can assist you in getting erection labor pricing as well as introducing you to potential builders.
A CAUTION in regards to ANY erector: If an erector tells you they can begin quickly it is generally either a big red flag, or you are being price gouged. ALWAYS THOROUGHLY VET ANY CONTRACTOR https://www.hansenpolebuildings.com/2018/04/vetting-building-contractor/
DEAR POLE BARN GURU: Do your pole barns come in 48' width?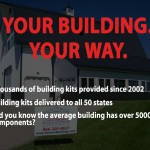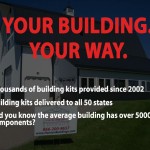 WHITNEY in DANVILLE
DEAR WHITNEY: All Hansen Pole Buildings are 100% custom designed to best meet our client's wants and needs. You may have any width, length or height you desire – down to even fractions of an inch, without having to pay a premium for some perceived standard.