Regarding Post-Frame Home Design
Reader MAUREEN writes:
"Hello. I was forwarded to you because I have some questions for you regarding my home
design.
What are the most economical size of trusses?
What brand of doors and windows do you use?
Can Hansen Buildings be built on a crawl space foundation?
Can in floor heat be used in crawl space foundations?
Are foundation designs sent for the foundation prep company?… to ensure the correct
foundation?
And please send your financing options.
Thank you!"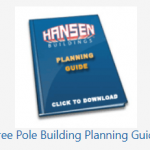 Mike the Pole Barn Guru says: 
Planning your new home around what span of trusses might be most economical is likely to end you up with a less than desirable outcome as you are trying to fit your ideal spaces into a preordained box, rather than creating a box to best fit your spaces. With identical features, building shells (other than in extreme wind or snow situations) become less per square foot up
to 40-50 foot spans, then generally level off until clearspans exceed 80 feet.
Here are some thoughts you may find helpful:
Have professional floor plans and elevation drawings done before pestering a builder. Very
few builders are professional designers or architects – expecting them to be is unrealistic.
If you do not own the dirt, it is impossible to craft a barndominium plan to best fit with your
building site.
Some plan tips to consider:
Direction of access – driveways are not cheap and shortest distance between two points is a
straight line.
Curb appeal – what will people see when they drive up? This may not be important to you,
however someday someone will try to resell your barndominium.
Is there an appealing view?
North-south alignment – place no or few windows on north walls, but lots of windows on south
wall (in the South reverse this). Roof overhangs on south wall should provide shade to windows
from mid-day summer sun.
Is there a slope on your building site?
Work from inside out – do not try to fit your wants and needs within a pre-ordained box just
because someone said using a "standard" size might be cheaper. Differences in dimensions
from "standard" are pennies per square foot, not dollars.
Popular home spaces and sizes need to be
determined:  https://www.hansenpolebuildings.com/2019/09/room-in-a-
barndominium/ and https://www.hansenpolebuildings.com/2019/09/the-first-tool-to-construct-
your-own-barndominium/.
With all of this in mind, order your custom designed floor plans
here: http://www.hansenpolebuildings.com/post-frame-floor-plans/
We furnish Plyco insulated commercial steel entry doors, with steel jambs. Both doors and
jambs are factory finish painted. These doors are available in six panel and cross buck styles,
with a variety of glass options.
Our windows are dual glazed vinyl and can be ordered with tempered glass. They come from a
variety of manufacturers and have appropriate U-factor and SHGC rating for your particular
climactic conditions.
More window and door information can be found within our Product Guide
https://www.hansenpolebuildings.com/pdfs/Hansen-Buildings-Product-Guide.pdf
Yes, our fully engineered buildings can be erected with crawl spaces (and do not necessarily
require perimeter concrete foundation walls)
https://www.hansenpolebuildings.com/2019/03/slab-on-grade-or-crawl-space/
Radiant floor heat can be incorporated into post frame crawl space designs.
Most of our clients use embedded columns for their foundation. Regardless of whether you go
this route, use piers with wet-set brackets, thickened edge slab with wet-set brackets, poured,
ICF, or CMU foundations, our engineered plans will include foundation designs.
Here is information of our financing: www.HansenPoleBuildings.com/financing
This book (co-authored by me) may also prove helpful https://www.amazon.com/Pro-Tips-Your-post-Frame-Home-