Today's Pole Barn Guru discusses Sliding Door Size, Floor Heat & Post Rot, and Trimming an Addition.
DEAR POLE BARN GURU: I have a shed in Holman Wisconsin with 12 ft high by 12 ft wide doors on it. The header is 13-6 can 13 ft high by 12 wide sliding door b installed? JEFF in HOLMAN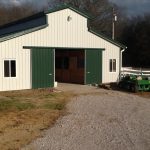 DEAR JEFF: Assuming standard post frame building construction where top of concrete slab is 3-1/2″ above bottom of pressure preservative treated splash plank. From bottom of splash plank to bottom of sliding door header would need to be 13′ 4-3/4″ to allow for a 13 foot tall sliding door.
DEAR POLE BARN GURU: In floor heat and poll life. Would higher temps from in floor heat reduce the life span of treatment and also improve the environment for decay organisms? VINCENT in CHAFFEE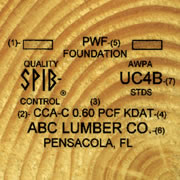 DEAR VINCENT: As pressure treatment chemicals bond to wood at a cellular level, unless your floor heat was hot enough to cause combustion, it is highly unlikely lifespan would be reduced.
Growth of wood-rotting fungi is affected by temperature similar to growth of ordinary green plants. It is faster in warm weather than in cold. There are variations in response to temperature, and for each species there is an optimum at which growth is most rapid. Forest Products Laboratories tests and others on a number of species of fungi common in Canada indicate temperature conditions for optimum growth range from 65 to 95°F. All fungi show little or no growth at freezing temperatures or slightly above, but most wood rotting fungi are not killed by temperatures well below freezing point. They can withstand winter's cold in a dormant state and can recommence active growth when temperatures increase again if other conditions are right.
Growth becomes less rapid as temperatures are increased above 95°F and ceases for most fungi at temperatures slightly in excess of 100°F. Prolonged exposure to temperatures slightly above maximum for growth, or even short exposure to temperatures much above maximum, can kill fungus completely. Actual death point is influenced by temperature, length of time and moisture content.
In theory, this means your heated floor could actually be responsible for killing decay organisms.
DEAR POLE BARN GURU: Hey I found you thru Hansen Buildings and had a question you might be able to answer just built a 24 x 16 pole barn and on the left and right added sheds but only half the building length what do I do with my gable trim that ends in the eave on the roof side of it just don't know how to end it? JEREMY in SILETZ
DEAR JEREMY: Run gable (rake) trim up to main building roof steel edge, with a factory (uncut by you) end towards main roof. Use Emseal® (https://www.hansenpolebuildings.com/2016/03/emseal-self-expanding-sealant-tape-closures/) between top edge of trim and underlying roofing to create a tight water seal.