This Monday, the Pole Barn Guru discussed attaching LP siding on a post frame home, installing ceiling panels, and an Inspector's questions.
DEAR POLE BARN GURU: I am looking at the possibly of installing standard LP lap siding on a post frame home, in that case it would seem like I would need to go with vertical studs. As a look at cost and installation time, metal siding is starting to look a little better. TRENT in WALLA WALLA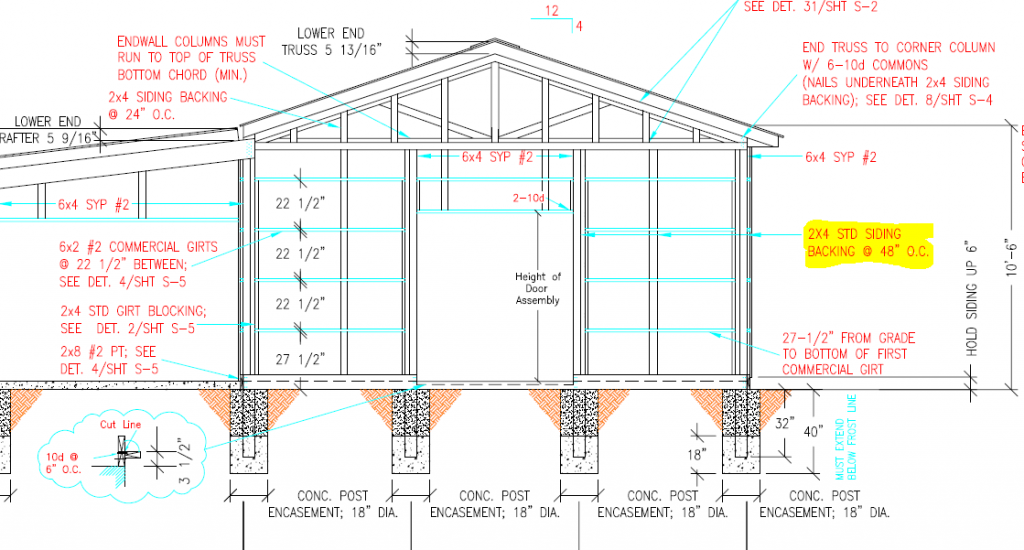 DEAR TRENT: My own home features steel siding and wouldn't consider doing it any other way. Besides being less expensive to install (both material and labor), steel siding will prove to be extremely durable and requires no maintenance. For sidings such as LP lap, you can still use bookshelf girts, reducing girt dimensions from 2×8 to 2×6 and placing vertical 2×4 nailers every two feet upon girt exterior face running from pressure preservative treated splash plank up to soffit supports. This results in a savings of around 20% in assembly framing lumber.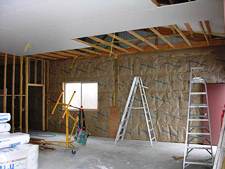 DEAR POLE BARN GURU: How far apart should the strapping be for installing metal on a ceiling. Trusses are 4ft apart metal is Tuff Rib 3/4 inch I think. BERNIE in ARMSTRONG
DEAR BERNIE: By "strapping" I will guess you are meaning supports for the steel ceiling liner panels. If you install panels perpendicular to trusses you can screw directly to bottom chords without any additional framing.
DEAR POLE BARN GURU: My building inspector is requesting information on the direct to ground treated aspect of the glulaminated timbers in my building.  The wording on the posts for the direct to ground side are covered with concrete.  The color alone isn't enough.  Where can I get this info?  Also the LU28 hangars call out 3 1.5 inch nails per side to truss, and 2 1.5 per side to Purlin. Which is 10 mails per Purlin bracket. He is requesting all holes being filled.  Do I argue or do I fill the holes? RICK in PARMA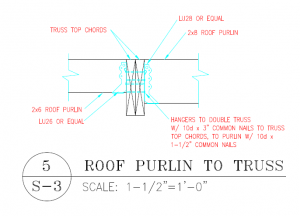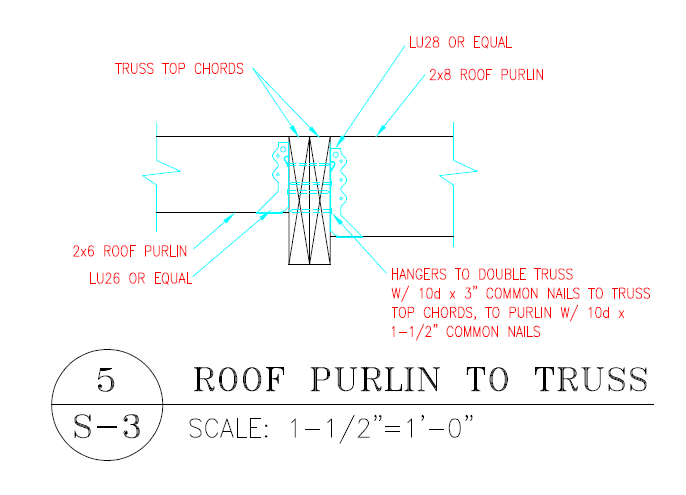 DEAR RICK: Justine forwarded to you manufacturer's warranty information in regards to your building's glulaminated columns, specifying level of treatment as adequate for structural in ground use.
Your inspector will be merely enforcing information denoted upon your engineered building plans. Unless called out for otherwise, all holes in hangers having wood to nail into must be filled. If nailing into a two ply member (e.g. double truss) 10d common x 3″ nails should be used. I also just happened to have a Simpson LU28 sitting next to me atop my desk – I count three holes per side to nail into purlin and four holes per side to nail into truss, total of 14 holes per bracket.