Earlier this year I was motoring around Arizona and stopped in to visit the Contractor (aka Pro) Desk at The Home Depot® in Sierra Vista.
My timing could not have been better, as The Home Depot® Pro Account Sales Associate (PASA) Sherry was working on a quote for standing seam steel roofing and the question came up as to what it was going to be applied over.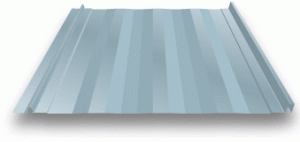 Standing seam steel roofing is manufactured from interlocking roll formed steel panels which are crimped, or snapped, together on site. The panels and seams run vertically from the top of the ridge to the eave side of the roof. The panels are fastened to the framework below by means of either clips or screws which allow the panels to flex in length to compensate for expansion and contraction due to temperature change.
Panels are typically 12 to 18 inches in width, with a narrow tall "rib" along each long side of the panel. These steel panels are rarely structural, as far as their ability to span between roof purlins and carry a snow load, so the majority of manufacturers recommend installation over solid sheathing.
Due to the large flat "pan" between the ribs of the standing seam steel, the panels are prone to oil can, or look wavy. Installation over smooth sheathing surfaces, tends to minimize the effects of oil canning.
American Building Components (www.abcmetalroofing.com) recommends their SL Series® roofing panels be applied over a properly aligned, smooth continuous substrate such as 5/8" or thicker plywood with a suitable moisture barrier between.
How about other manufacturers?
Union Corrugating (www.unioncorrugating.com) merely states, "Install the Advantage-Lok II Standing Seam Roof System on solid decking", without defining what the solid decking is. When researching the Florida NOA (Notice of Acceptance) for the product, it specifies the decking to be either plywood or wood plank.
Fabral (www.fabral.com) also says to install their Ultra Loc, Horizon 16 and Horizon S panels also use the solid decking term.
This "solid decking" thing continued to perplex me, so I found the UL® online certifications directory at www.floridabuilding.org and see the system for all listed manufacturers (most major United States roll formers) requires:
"3. Substructure — (Plywood) — Plywood decking to be a nominal 5/8 in. thick, exposure sheathing span C-D, 40/20 plywood. All butt joints to be sealed against leakage by using tape and/or caulk or with one-part urethane sealant."
Planning on using a standing seam steel roofing product? I would most strongly recommend it be installed over 5/8" plywood. Why? Because the screws will stay in the plywood!