This actually began as an "Ask the Pole Barn Guru" question:
DEAR POLE BARN GURU: We have installed the Pressure Treated Posts  and they were straight when the concrete was poured, now a couple of weeks later we are seeing the poles twist and warp. They are straight at the ground level but about half way up they start warping. We are getting ready to put the Trusses up and want to try to get the twist and warp out as much as possible before the trusses are secured to them. What should we do for this issue? SHERI IN BENTON CITY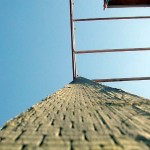 The series of photos on untwisted pressure treated posts are thank to Tim Fieldsend who had the very same problem back in 2003. Tim is my hero for having saved these photos for a dozen years!
When Tim contacted me with his challenge, I suggested a fix which I had not tried before, but it made some sense at the time.
The first step was to absolutely saturate the pressure treated post with water – soak it and keep it wet. Tim was creative enough to actually wrap a soaker hose around the columns!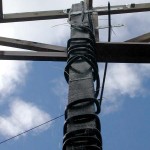 After a few days of being watered, apply significant and steady pressure on at the top of the column, in the reverse direction of the twist. Tim's solution sure worked, however a substantial steel bar or rod cabled or chained to the top of the column would work as well. If the post is not thoroughly saturated, there is a high probability it will snap off. As the column begins to untwist, continue to tighten the cable attached to the lever arm.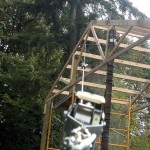 Once the column has been restored to straight, keep the tension on the cable and allow the column to thoroughly dry. Once dry – get the column incorporated into a completed building as expediently as possible.