This week the Pole Barn Guru answers reader questions about the type of foundation and uplift requirements there is for and RV cover and "what not," building a home on a stem wall or with crawl space, and pluming for a building built on slab.
DEAR POLE BARN GURU: For a 24 x40 x12 pole barn residential use as an RV cover and what not what type of foundation and uplift requirements are there other than the post being set around 4 feet in the ground? STEVE in FORT MCCOY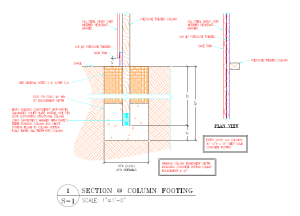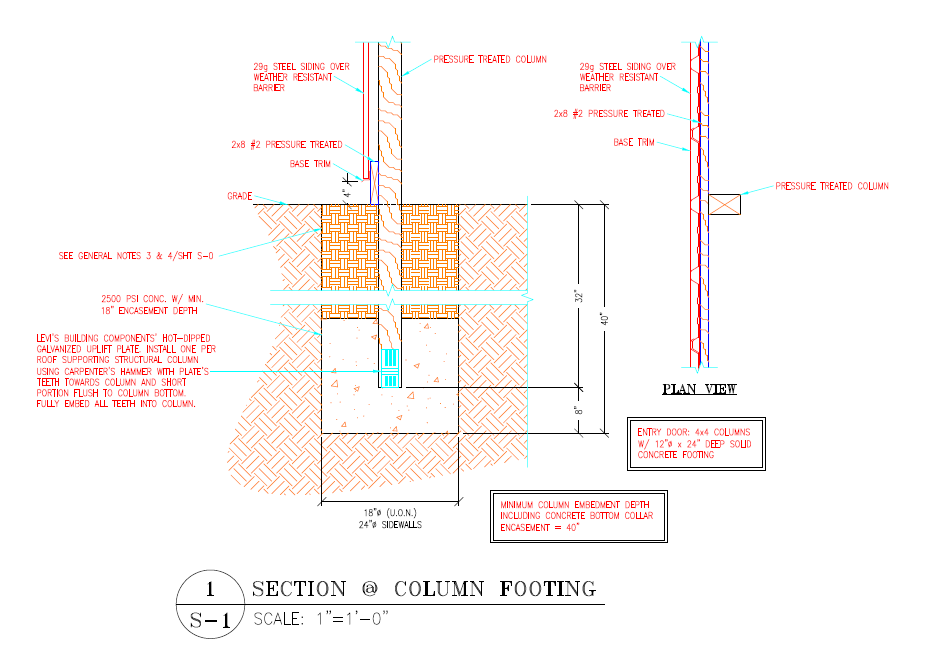 DEAR STEVE: Column embedments and encasements need to be engineered to adequately resist uplift, overturning and gravity and will be determined based upon design wind speed and wind exposure, roof dead loads (plus snow in more northern climates), whether building is enclosed, open or partially enclosed, etc., as well as soil bearing capacity. When columns are effectively constrained by a concrete slab on grade, it helps to potentially reduce depth, diameter and required amount of concrete needed for hole. Due to complexity of these factors, embedment and encasement, as well as any added uplift plates or cleats should only be determined by whatever engineer will be sealing your plans. He or she should also provide verifying sealed calculations to certify adequacy. A consideration – if this will be a roof only structure, Moment (bending) loads on columns are four times as great than on a fully enclosed structure – this results in more concrete being needed for holes.
DEAR POLE BARN GURU: I'm building a post frame building/house. I want to use stem wall or pillars, wet set brackets. Is there a huge cost difference or benefit over the other? Does stem wall, if used, have to be on a footer or does it act as it's own footer? I want floor to be 1.5′ above grade if that makes a difference. Thank you for your time and input. LONZY in CONWAY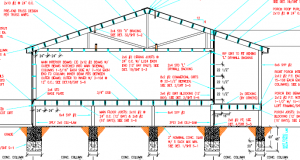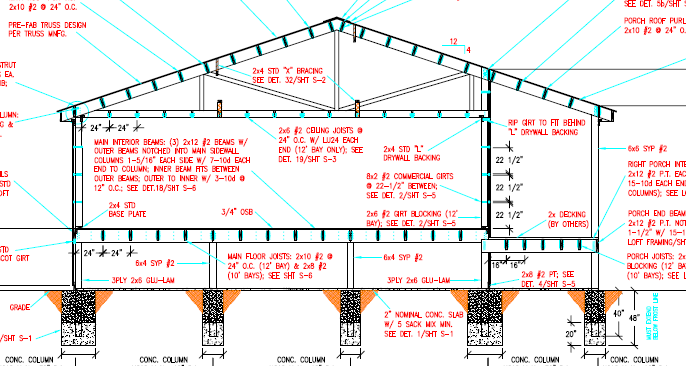 DEAR LONZY: Post frame buildings make for excellent homes! Great choice. My educated guess is your floor is going to be over a crawl space. If so, your top of floor will probably end up being more like two feet above grade, rather than 18 inches. This allows for better access to utilities as well as not requiring all supporting beams and joists to be pressure preservative treated. Concrete stem walls will need to be at least six inches thick and on top of a six inch deep by 12 inch wide concrete footing (for a single story), resulting in a far greater investment in forming and pour (both in materials and labor). Concrete piers are pretty low tech and then sides of your crawl space will consist of (usually) steel siding.
DEAR POLE BARN GURU: What is the best way to plumb a pole barn home. I would like to keep the concrete floors, but I need a way to plumb it without having to jackhammer concrete when there is an issue. NICHOLAS in LOUISVILLE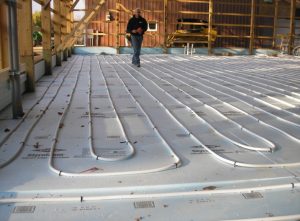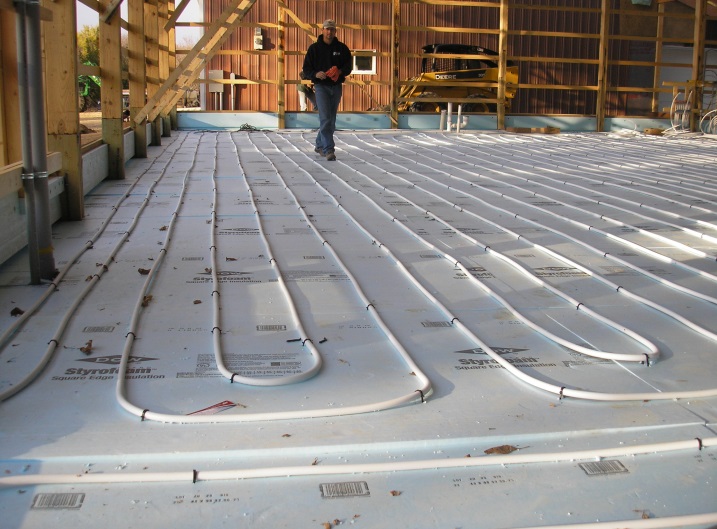 DEAR NICHOLAS: In all reality, chances of a modern plumbing failure under a concrete slab are very, very small. Tens of thousands of homes and apartments are built every year in our country with plumbing under concrete floors, attesting to how rare a failure occurs. Older slab on grade buildings have had challenges from deterioration or perforation of copper pipes or joint issues. Your best prevention is a well-prepared site, as shifting soils are your most likely cause of a plumbing challenge. Remove any expansive soils and compact fill in no greater than six inch lifts. Keep water from being able to run under your home – by grading away from building perimeter at least 10 feet at a 5% slope. Build pad for building up above surrounding property. Use French drains if underground water is suspected. Drain gutters sufficiently away from home. Use PEX for all under slab water lines. All pipes need to be extensively tested for drainage and air pressure in supply lines multiple times during rough-in process prior to slab being poured. Testing should take place once after rough-in is completed and before backfill when dirt is pushed back into trenches to cover pipes. It should be tested once again after backfill has taken place to ensure no damage to pipes, then once again after concrete slab prep has been finished. I have heard of people running their under slab PEX through larger diameter sleeves, however this seems to be an unnecessary expense.