My bride tells me I spend an inordinate amount of time surfing the 'net. She is probably right, but I surf with a goal in mind – researching topics so there are more satisfied pole building owners!
I stumbled across an interesting video on "How to Fix a Sagging Pole Building" today at: https://wn.com/how_to_fix_a_sagging_pole_building
Now, I know the easiest solution to this problem….DON'T LET IT HAPPEN IN THE FIRST PLACE!!
Yes, I was yelling when I used CAPS!
Inadequate footings beneath columns are one of the banes of my existence. In the name of saving a few dollars in concrete, there are so many wrongs which are never going to be added up together to create a right. Here is one of my previous takes on footings: https://www.hansenpolebuildings.com/blog/2014/08/footings/
There are numerous instances of famous structures which had inadequate foundations. Perhaps the most famous being the Leaning Tower of Pisa (read more at: https://www.hansenpolebuildings.com/blog/2011/11/soil-compaction/)
The old armory in St. Paul, Minnesota actually sank over 20 feet into soft clay!
I spend a lot of time dispelling bad advice found on the 'net. The video above, includes some of this same bad advice.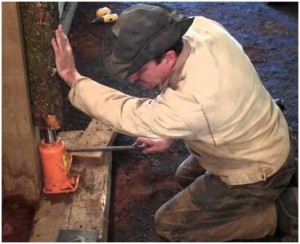 The "star" of the video relates his supposition as to there being either no or inadequate concrete beneath the sinking columns. He also tells us the sagging pole barn is in frost country. His restorative process is all well and good, until he pours what would be otherwise known as a "top collar" around the column. Provided the four sacks of premix adequately bond to the column (read about concrete-to-wood bonding here: https://www.hansenpolebuildings.com/blog/2013/04/pole-barn-post-in-concrete/) a brand new problem has been created – frost heave! https://www.hansenpolebuildings.com/blog/2011/10/pole-building-structure-what-causes-frost-heaves/
Our "star" is planning upon the concrete top collar to only have to hold the post in place until a concrete slab is poured. My prediction – frost heave will cause the concrete slab to crack (or entirely break) at these columns.
The solution should have included excavating to the base of the 6×6 (yes it would have been more work) and providing an adequately sized concrete footing pad below the frost line. Involving a competent engineer, rather than winging it (in my humble opinion), would have been dollars well spent to fix his sagging pole barn!