Prefab Wood Roof Trusses Are Sexy Though
In 1952, in Pompano Beach, Florida, an inventor named Carroll Sanford had been experimenting with building prefabricated roof trusses using plywood gusset plates and varying concoctions and combinations of glue, staples, nails and screws. Eventually he conceived of light gauge steel plates with punched teeth to connect wooden members.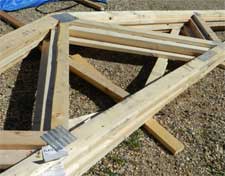 If this wasn't a sexy use of technology, then I don't know what would be.
A burgeoning pole barn (post frame) building industry was largely aided by this new ability to economically clearspan relatively large distances.
What Hansen Buildings does now and since 2002:
FEATURE: Prefabricated face-to-face doubled roof trusses.
BENEFIT: Provides an engineered solution with clearspan widths of 80 feet and (in some instances) more. Endwall trusses make for quick and easy installation, while maintaining roof slopes.
True double trusses provide increased reliability due to their load sharing capabilities: https://www.hansenpolebuildings.com/2018/09/true-double-trusses/.
EXTENDED READING ABOUT THIS SUBJECT:
My all-time most read article: https://www.hansenpolebuildings.com/2011/06/pole-barn-truss-spacing/
Why most people should not order trusses: https://www.hansenpolebuildings.com/2018/10/why-most-people-should-not-order-trusses/
WHAT OTHERS DO: Another feature with a myriad of possible outcomes. I will defer "how" trusses are attached to columns for a later article.
Theories of roof truss spacing become most generally divided up geographically. These geographic nuances do bleed over from one area to next, so are not cast in stone.
Eastern U.S. places single trusses upon two or four foot centers attached to tops of truss "carriers" – headers spanning from sidewall column to sidewall column. Here are a few words about truss carriers: https://www.hansenpolebuildings.com/2018/10/what-size-truss-carriers/.
Midwest most often opts for a single truss aligned with sidewall columns. Spacing might be as little as 7'6" and as great as 10'.
Going West – expect a single truss each side of sidewall columns with paddle blocks to attach roof purlins. Learn about paddle blocks here: https://www.hansenpolebuildings.com/2012/05/paddle-blocks/.
While Eastern and Midwest post frame buildings generally feature trusses at each end. As one heads west, dimensional lumber rafters are often seen – relying upon building erectors to achieve proper alignment with interior trusses.
WHAT WE DID IN 1980: Back in green lumber land – Lucas Plywood & Lumber fabricated trusses out of green lumber. As spans (and dimensions of top and bottom chords) increased they became phenomenally heavy.For building ends, 2×12 #3 rafters were provided.