How to Insulate
I fear "how to insulate my post frame (fill in the blank)" is going to be my most answered topic for the next decade. Energy efficiency is the "hot" topic right now and sadly there are more folks trying to solve what they already have, than there were those who planned for it correctly in the beginning.
Reader ERIC in FENELTON writes: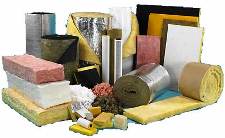 "Hello, I am wondering what the best and most cost effective way to insulate my post frame garage would be. I recently erected a 32'x48'post frame garage with glulam posts on 8' centers, girts and purlins on 2' Center's, trusses on 4' centers with 1' overhangs with center soffit and ridge vent. Walls and roof are steel with double bubble between purlins and roof steel and tyvek between hurts and the wall steel. I will be building a wall to separate one of the bays as a metal shop for welding and fabricating. This will be the only bay that is heated and is 32'x21'. I am on a budget but my biggest concern is moisture. I installed the tyvek and double bubble hoping to positively effect the problem but am still hesitant to put fiberglass in the
walls but spray foam is out of my price range. I have seen some people cut 1 1/2" foam board to fit between the wall girts and either stop there or then frame traditional walls between the posts and add R13-R19 faced insulation. Is this an adequate way to insulate and will the foamboard keep moisture from the fiberglass? I will definitely be framing between posts and then covering with painted OSB regardless of the insulation method I choose. Also, I was leaning toward using fiberglass batts in the ceiling and then using the white liner steel under the trusses. They are 2×6 top and bottom cord trusses and rated for a ceiling. Fiberglass in the ceiling gives me the same moisture
concerns however. So I guess my question is, now that you know about my building, what is the best abs most cost effective way to insulate the portion of the building and avoid moisture? Spray foam is out of the question due to costs. I have been doing a ton of research but get different answers everywhere I go. Any help will be greatly appreciated. Thank you."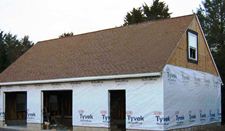 Mike the Pole Barn Guru
As long as the Tyvek is well sealed, you will not be gaining moisture from the outside on the walls. What you need to create is a dry wall cavity. Completely fill the wall with unfaced fiberglass (you might consider using BIBs https://www.hansenpolebuildings.com/2011/11/bibs/)
and cover the interior of the wall with a well sealed vapor barrier (clear visqueen will do nicely). Cutting foam board is an exercise in
futility unless you can figure out how to completely seal it, if you
stop at this point.
For your ceiling – there is a good chance you will experience
condensation on the underside of the steel ceiling liner panels. With
your vented eave and ridge, blown in fiberglass is probably the best
answer. If you do not have raised heel trusses, you should probably look
at spray foaming the first couple of feet of the ceiling area in order
to reduce heat loss from not being able to gain full thickness of the
fiberglass.