What to do When the Old Post Frame Garage Has Issues

Welcome back from Tuesday's posting. As you may recall, when my great-grandfather W.R. McDowell built his two-car Model A garage pre-World War II, it was 16 feet wide by 20 feet deep. This garage was supported by eight cedar poles on minimal footings.

Well….sure enough some of those cedar post footing settled. Some settled more than others, resulting 50 years later in what was appearing to be some sort of carnival fun house. Wood floor parking surface was up and down and the stick framed walls above had developed a serious lean.

By 1946, my great grandparents (W.R. being 74 and Mary Elenis 66) found hiking up and down stairs to be not as much to their liking (much like Mr. Lillequist 10 years before). They sold their cabin to their son Boyd and his wife Jerene.

44 years later, in 1990, Boyd and Jerene had reached their 80s. Having spent my summers at Newman Lake and having developed a strong affinity for it – they gifted this cabin to me, my wife and our young daughter Bailey.

I had recently sold my first business, in Oregon, and returned to Spokane. My intention was to remodel our cabin, so it could become our primary residence. To start with, something had to be done with its garage. Even had it remained structurally sound, while two Model A cars may have fit in it comfortably,  we needed more width and depth for two more modern vehicles.

My solution – build a new 22 foot wide by 24 foot deep post frame garage around what was there.

First step was to tear down the old garage to parking deck level.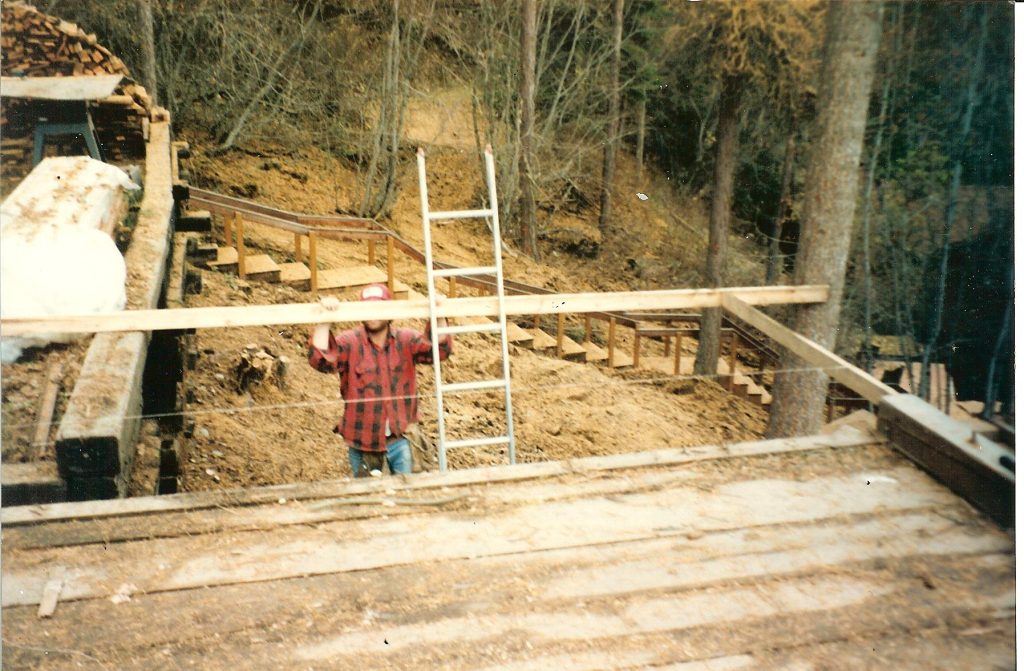 A couple of trees were too close for comfort and had to be forcibly removed.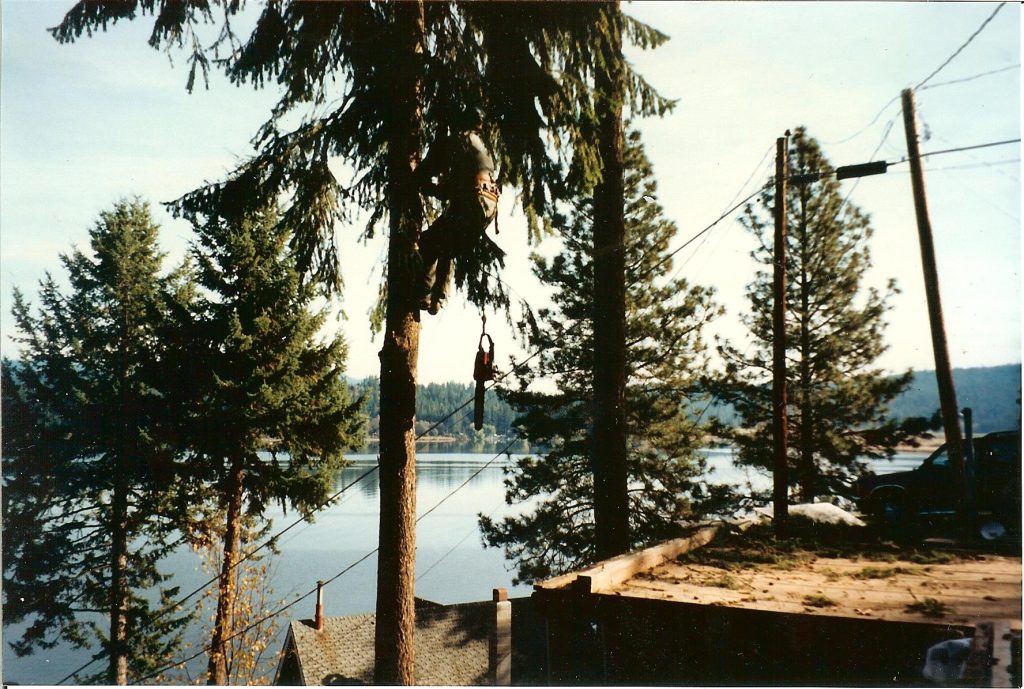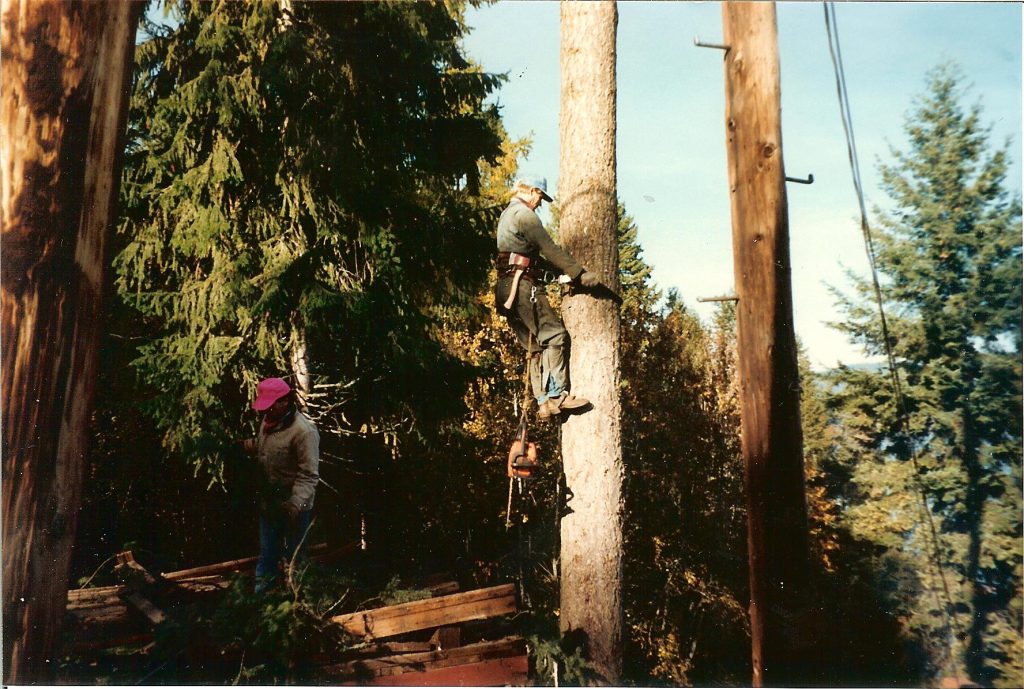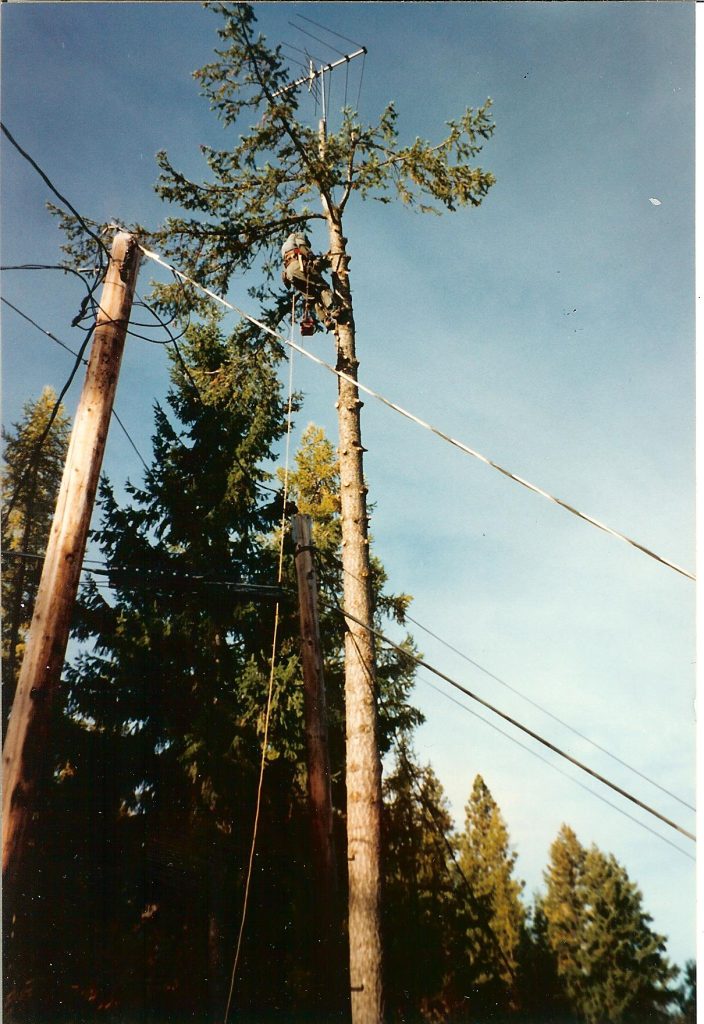 Once offending trees were removed, pressure preservative treated posts were set around outside of the existing floor (and a few through holes chainsaw cut through the floor).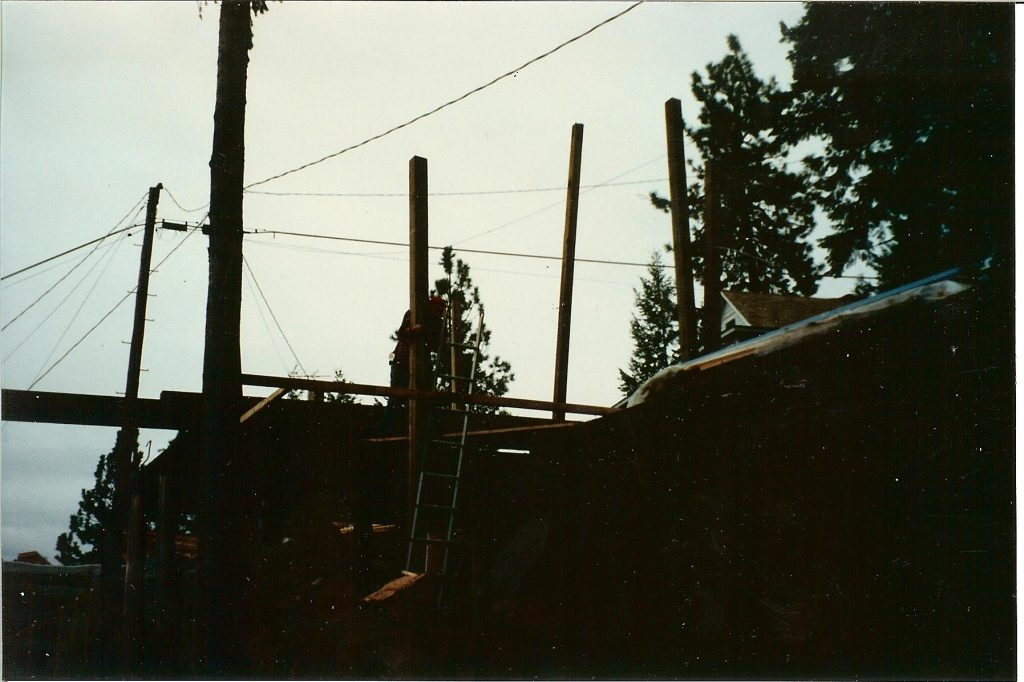 After posts were in place, the old floor was removed and framing began. Being it was early December, in Northeast Washington State – we got to deal with snow.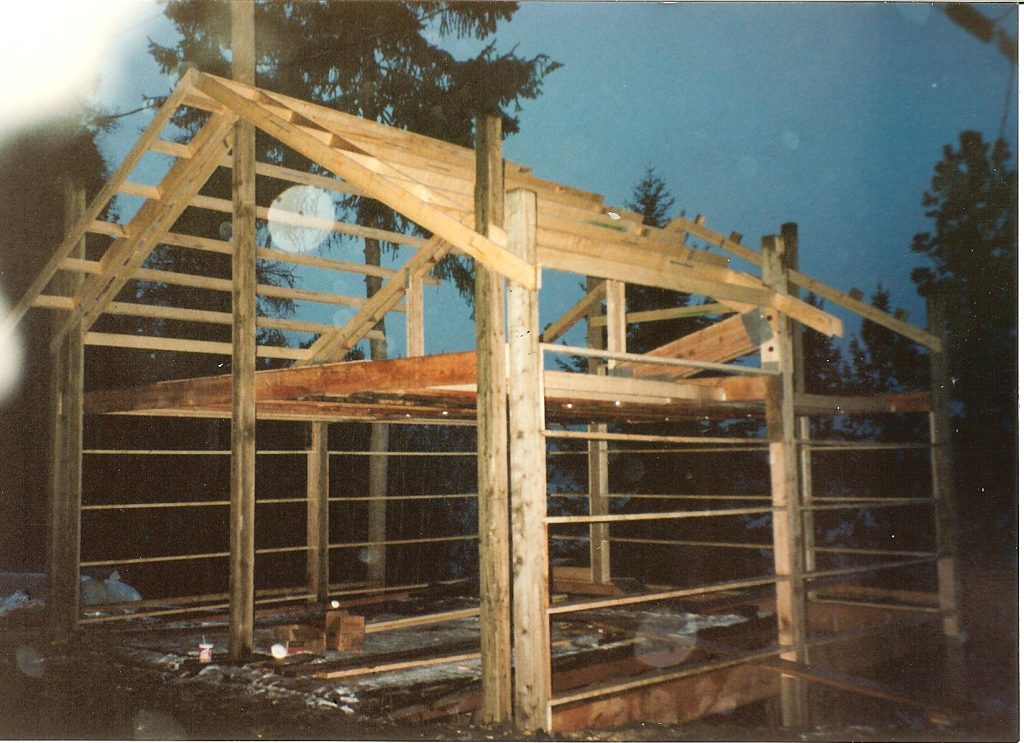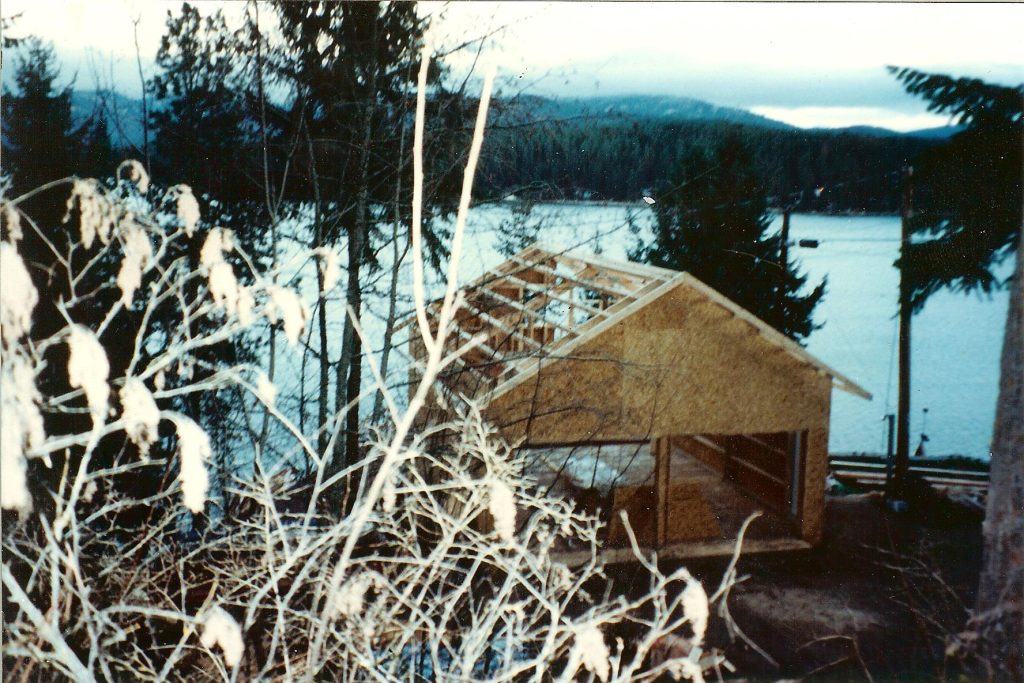 In order to support weight of a concrete slab and vehicles 14 feet above ground, 2×14 #2 Douglas Fir floor joists were placed 12 inches on center, with 2×8 Tongue & Groove decking over top. Raised heel bonus room attic trusses with a 7/12 slope were utilized, in order to allow for a home office space above parking level.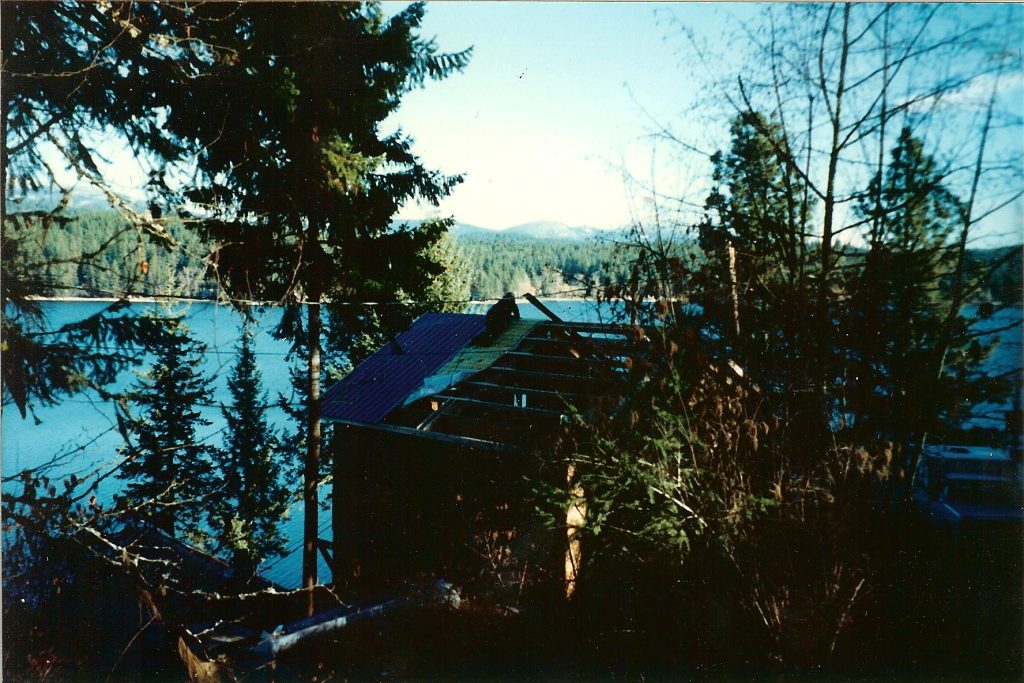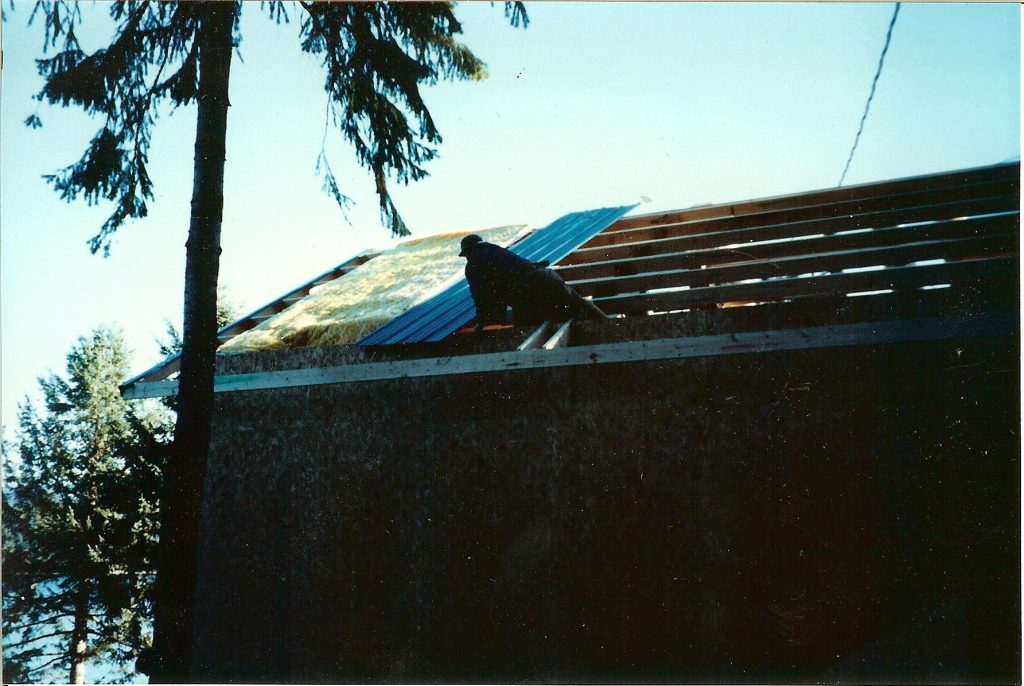 On Super Bowl Sunday Eve of 1991 near tragedy struck our still under construction project. On Friday, our electrician had energized power. When wiring had been run, he had neglected to install protective steel plates at crucial points where sheetrock screws might penetrate wiring. One screw hit a wire in an attic space and smoldered for a day. Around midnight, one of our neighbors got up to get a drink of water and noticed flames coming out of our garage. Their quick thinking and fast response from our local fire department saved this building, with only minimal fire damage, but everything was coated with black soot.

Profuse quantities of Kilz™ were used, however a smoke smell still persisted. We added temperature controlled powered vents in attic spaces, with corresponding air intakes, in order to exhaust burn odors on warm days.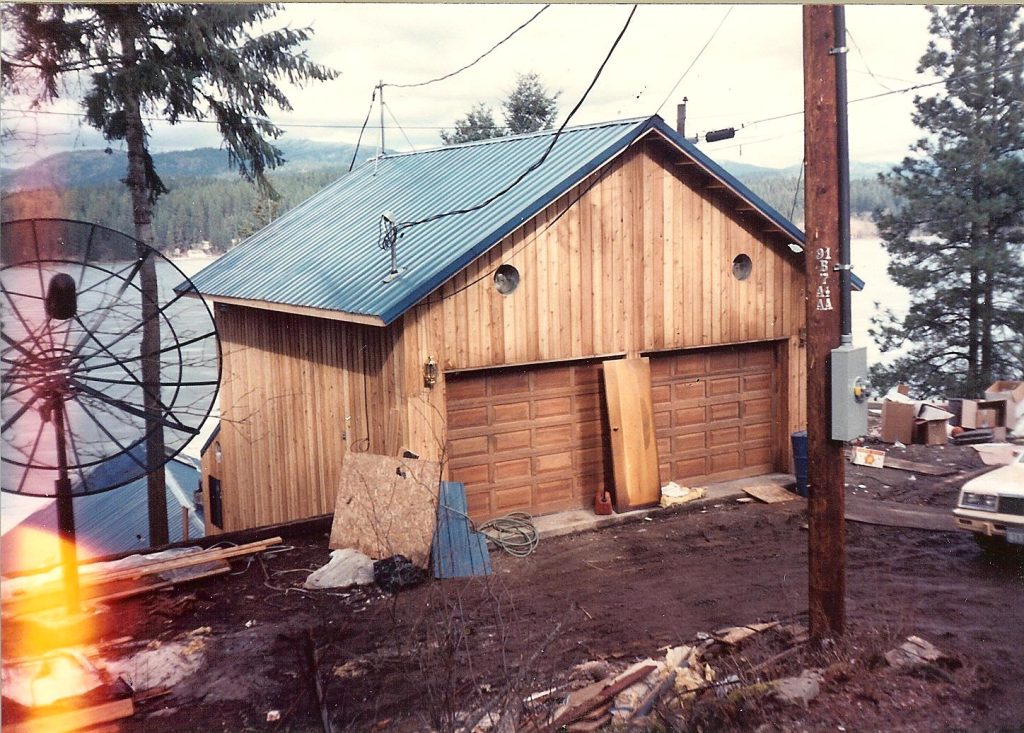 Note: smoke stains on siding above overhead doors and cutouts in endwall for ventilators.

As you may recall – there was some significant grade change at this site. Space below garage floor level, was utilized to create a studio apartment with over 400 square feet of space (current owners rent it out as an AirBNB https://www.airbnb.com/rooms/665906592425731485?source_impression_id=p3_1667315547_%2BXfm5XMqvopowtF%2B).