I am not even certain "ultimateness" is a word, if not, it should be!
In yesterday's article I left you with a cliff hanger. Today I will talk you down. We disclosed one solve yesterday, today's is even bigger.
"Can my building's trusses support a ceiling?"
This lament gets answered over-and-over in my every Monday, "Ask the Pole Barn Guru" column. Traditionally pole barns were farm buildings. Rarely did anyone ever finish an interior, or live in one. Due to this, pole barn trusses are most often designed to support minimal weight from bottom chords. Sometimes this design loading is as little as ½ psf (pounds per square foot), but more often one psf.

Now one psf happens to be wonderful for things like minimal wiring and lighting. What happens when one wants to install a ceiling? Whoops.
Part of "The Ultimate Post Frame Building Experience™" includes us doing our best to assist clients in avoiding scenarios they will regret forever. An inability to support an initially unplanned-for ceiling would be way high on this list.
Most commonly ceilings are 5/8-inch thick gypsum wallboard (sheetrock). This is my ceiling material of choice, both for low investment outlay, as well as Type X providing some degree of fire resistance. Drywall is not light, roughly 2.3 psf. It also has to be supported by something other than widely spaced trusses. Ceiling joists (most often 2×6 every two feet) will add nearly a pound per square foot. Blown in insulation is relatively lightweight, even R-60 will add only 1.13 psf.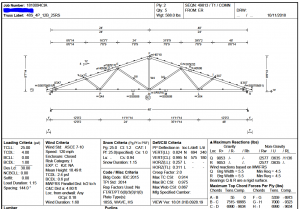 Hansen Pole Buildings has taken it upon ourselves to use a minimum of FIVE (5) psf for roof truss bottom chord design load on all spans up to and including 40 feet. This decision results in a capacity of 500 to 1000% more than most other post frame building kit providers, as well as post frame contractors!
Want to enjoy "The Ultimate Post Frame Building Experience™" yourself? Dial 1(866)200-9657 and speak with a Hansen Pole Buildings' Designer today!
P.S. This has nothing to do with post frame buildings. For those who are counting (I know of at least one), this is blog article #1666 (oh, no three sixes)! Our youngest daughter happened to have attended a Jesuit high school, and she was so pleased when she got her first cell phone while there and her number's last four digits were……6666! So Allison, this blog is dedicated to you!