Today's PBG addresses slab insulation, vapor barriers and sliding doors at an entry.
DEAR POLE BARN GURU: I am starting a project finishing a Hansen pole barn in a suburb of Minneapolis. My question is in regard to the floor. I assume there was no insulation under the slab, I have yet to confirm this, so how do I insulate after the fact? Are sleepers my only option?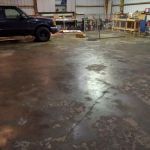 Thank you for your time. CHRIS in MINNEAPOLIS
DEAR CHRIS: Whether before pouring slab or after, I'd go with a Frost-Protected Shallow Foundation https://www.hansenpolebuildings.com/2016/11/frost-protected-shallow-foundations/.
DEAR POLE BARN GURU: Contractors installed vapor barrier on the roof but not walls. What is the best way to install a vapor barrier now that the metal siding is up? JASON in ROCKVILLE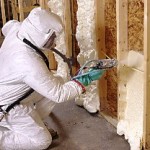 DEAR JASON: I usually recommend using a Weather Resistant Barrier between siding and wall framing (https://www.hansenpolebuildings.com/2016/01/determining-the-most-effective-building-weather-resistant-barrier-part-1/). Given where you are now – if chances of climate controlling your building are small, you can spray two or more inches of closed cell foam insulation. If you intend to heat you can entirely fill insulation cavity with unfaced fiberglass and then put clear visqueen on interior as a vapor barrier.
Dear Pole Barn Guru: I'm in the process of putting up a shop at my house. The front has a 20×12 opening and was planned to have sliding wood doors as the front will be bricked to match my house. Can you give me tips on how to effectively anchor this and will I need a backup door on the inside to seal out the elements? I don't want big gaps so that animals and critters can easily make their way in. The building is in the middle of a bean field and it will have spray foam insulation. Thanks for the help! MICHAEL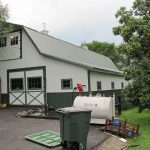 DEAR MICHAEL: Sliding doors are not going to seal anywhere near air tight. How about going with an insulated carriage house style overhead door? It will give you a great look and be functional. Hansen Pole Buildings can provide a broad variety of carriage house doors with our complete post frame building packages. http://www.amarr.com/residential/garage_doors/carriage_house