Your dream RV deserves reliable RV storage! Motorhome storage can be as simple or luxurious as you want it to be. Yourrv storage building kit will be custom designed to fit your needs and desires. No longer will you have to choose a size too big or too small. You can order an motorhome building kit exactly the size you want, with a large list of optional features.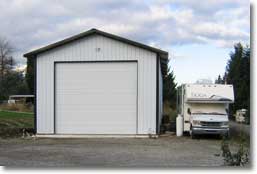 Dress it up or dress it down… get a FREE QUOTE on a rv storage building kit today! Most prices on custom designed motor home storage buildings ready in less than 24 hours:
Custom storage building kits available.
Get a FREE QUOTE on a RV Storage Building.
RV storage is not just a good idea, it has become a necessity to safeguard your valuable investment. Protecting the outside of your recreational vehicle from sun, rain and snow is a no-brainer. But how about interior protection? An RV storage building gives you the reassurance the interior wiring, upholstery and insulation is secure. Responsible RV owners are making wise choices in selecting protective storage barns which guarantee their dollars stay where they invested them.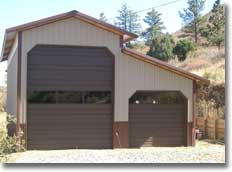 What will your Motorhome storage building look like?
Choose the style you want and compare the advantages of each: gable, monitor, gambrel, main with attached sheds or single slope. See what other customers have designed and then select your own unique features to personalize your RV storage barn.
Your Building. Your Way.
Custom motorhome storage building kits afford unlimited siding choices: board and batten, steel, vinyl, T1-11, or your choice to add brick or stucco. Architectural or standard shingles, tile or steel roofing provide options for a clean, modern look to your RV building. Even if you hire the labor portion of your custom kit, you will love your new RV storage building if you design it yourself. And you can!
Click here to get a FREE quote on a custom storage building kit:
We have kits to meet everyone's budget – RV Garage Quotes.
Add features for curb appeal to your RV storage building. Here are just a few of the many to choose from:
Eavelights
Wainscot
Enclosed overhangs
Cupola with weathervane
Specialty overhead doors – overheads with window kits, carriage doors
3', 4' and 6' entry doors
Second story lofts, attic lofts or crawl spaces