More than anything, building a pole barn garage is why most folks come to us for help. They want to combine their hard earned dollars with "sweat equity" and purchase a pole barn garage. Saving money while getting garage storage for their valuables is a dream come true!
Take a look at the type of garage kits others before you have designed: Garage Photo Gallery.
As the years go by, we as Americans like stuff – lots of stuff. And we like to protect our stuff by putting it in garage storage, preferably close to home. Often a one, two or three car garage building is not enough for the family cars, boat, camper, lawn mower, bicycles, work bench and everything else we seem to accumulate. We need…pole barn storage!
It is so much handier to have that garage building on our own property, where valuables can be easily accessed and used. If you are going to pay monthly rent on pole barn storage, why not "pay it" to yourself by building a garage on the home site? Dollars literally thrown to the wind for rented garage storage can be shifted to an investment on your own property.
What does a pole barn garage cost?
Find out by clicking here to get a FREE Garage Quote on garage kits
It's not unusual for families to have not one garage storage building these days, but two: one for the family vehicles and a work area, the second for strictly pole barn storage. Men love to build a "man cave" in the garage, where they can tinker to their hearts content. A TV in the corner next to the work bench is common, leaving the family room TV for the wife and kids.
How about a second workspace or relaxing area? Many garages are finished out just like the interior of the home, making room for a hobby, a home business, or even a gardening area! One innovative use of garage building kits is for a "pool cover", making year round enjoyment of the backyard swimming pool.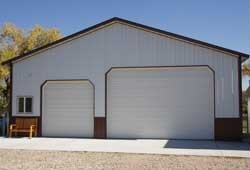 Want it your way?
Custom buildings is what we are all about. Call a designer to get started planning your new pole barn garage at 1-866-200-9657.
Having your dream play space is but a few steps from the house, and is a sound investment. Whether for your sanity or a future sale, you can't go wrong putting dollars into…your ideal garage building.
Build it yourself or hire it done…garage kits are number one!